March 3, 2016
Salty 8
Thursday
This ended up being mainly a planning and ordering day, punctuated by my departure for a few hours in the middle of the day to help another boatowner with some rigging-related measuring tasks.
One question we resolved, at least in concept, was battery placement.  The new electrical system would feature an engine start battery along with a house bank of two 6-volt batteries in series, and with limited space available my first task was to find the best (or a possible) location.  The original house batteries had been in a locker beneath the cabin sole, which the owner didn't care for, and as it happened the space would hardly–if at all–allow the planned batteries to fit.  Some time ago, since I use these batteries often, I'd built a plywood mockup of the batteries, a simple box that included the height of the terminals in its overall size.    Using this as a guide, I found that the "battery" didn't quite fit beneath the cabin sole, and that the length of the locker was barely able to accommodate the two in line.  I thought there might be enough sloppiness in the size of the rough mockup that an actual battery might just fit, in in any event it was close, and with the desire to use a different space anyway, I continued to search, but felt that there was at least a probable fallback position.
I tried the mockup in one of the settee lockers, but the fit there wasn't even close.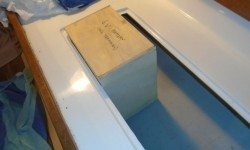 Nowhere else fit the bill of the basic requirements (i.e. space available, room for safe and proper terminal coverage, close to the engine room and electrical service to limit cable runs, etc.) except for the port cockpit locker, where there was plenty of room and where I could build a platform or box to accommodate the batteries and which made sense for various other reasons.  The owner seemed to like this location, and I'd move forward with some additional mockups to finalize the idea.
With most of the dismantling and old systems' removal mostly complete, it was time to turn to preparing for new installations, specifically the electrical system, engine-related systems, and through hulls.  This inevitably led to various questions in terms of logistics, specific requirements from the owner, and more, and with tracking down and eventually ordering the bulk of the materials required for these varied installations, the day disappeared with a murmur and nothing particularly to show for it, at least not till the overloaded boxes started to arrive in a day or so.
Total time billed on this job today:  5.5 hours
0600 Weather Report:
8°, clear.  Forecast for the day:  sunny, high around 23°