April 14, 2016
Salty 40
Thursday
Starting with the halyard winches and rope clutches at the after end, I removed the final pieces of deck hardware from the coachroof so I could rebed them and replace the fasteners.  I removed the old sealant from the deck and the bases of the hardware as needed.
The deck here was not cored, so I could proceed directly with reinstallation.  I masked off the deck around the footprints of the hardware, and reinstalled with sealant and new fasteners.
Near the mast step was a pair of turning blocks to run the halyards aft, and these were the last pieces to remove and rebed.  After removing the blocks, the fasteners looked so long that I figured there must be a core in that part of the deck, so I drilled out one of the fastener holes with a 1/2″ bit.  However, there was no core–it was just a thick solid area, presumably part of the built-in reinforcement for the deck-stepped mast.  So I filled the erroneous hole with thickened epoxy, but I'd have to wait to install the starboard turning block till later.
There was no stopping the progress on the port side, however, where I cleaned up from the old installation and reinstalled the block with new fasteners.
I'd decided to replace all four lifeline tether padeyes on the cabin top, as it just seemed right given their function, and the replacement hardware was inexpensive.  So with new padeyes on hand, I installed the four with new sealant and large washers.  I'd come back later and cut off the excess bolt length beneath.
To smoothly fair the lobster pot batten into the keel, now that it was well-secured I applied some additional epoxy to fair its transition to the bottom of the keel.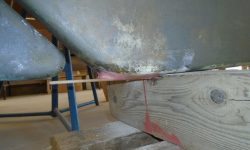 Total time billed on this job today:  5 hours
0600 Weather Observation:
30°, clear.  Forecast for the day:  sunny, 50