April 19, 2016
Salty 43
Tuesday
I spent the morning taking care of myriad smaller tasks, starting with the engine hatch, which I lightly sanded and painted with the finish coat.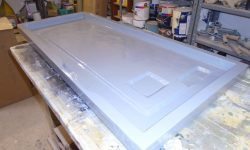 I installed a new bulb gasket around the perimeter of the engine hatch.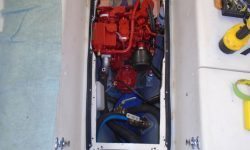 I cleaned up the original bronze stuffing box, and packed it with two layers of new graphite packing.  There simply wasn't room to thread on the nut if I added a third layer, though I tried several times to make it work.  After repacking the box and compressing the packing using an old shaft, I installed the stuffing box in the boat with new hose and clamps.
To support and secure the RTE to the masthead, I installed a standard 1″ antenna base, to which the RTE would thread.  I installed it over an existing wire hole in the masthead casting.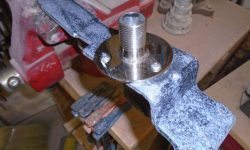 To extend the VHF antenna aft, away from the RTE, I installed an aluminum extension, which I bent to match the angle of the masthead casting so the protruding end would remain level.  I left the extension oversize at the beginning, but later I determined where to mount the VHF antenna bracket and cut off the excess.  The extension could be removed to allow the backstay toggle to be inserted into the mast beneath it, once the masthead casting was back in place.
The topsides featured original gelcoat in good condition for its age, but with some staining, dirt, and oxidation.
It didn't take much to bring back the shine and clean up the surface with light polish.
The engine exhaust outlet was located fairly high on the transom, above any normal levels of submersion, and this, along with the high cast iron gooseneck just inside the transom, would be as effective as anything against potential backflow into the outlet. The very space available in the boat required certain compromises in the exhaust system design.  However, to ward off a following sea in more extreme conditions, the owner elected to add a simple exhaust flap over the outlet, which added a bit of extra protection to the system.
Total time billed on this job today:  6.25 hours
0600 Weather Observation:
40°, light rain.  Forecast for the day:  Rain ending, clouds, 50s