October 7, 2015
Aventura 9
Wednesday
With a late start after a morning appointment, I got back to work on the hull, and once more prepped and sanded the remaining patches on the keel, completing the repairs there for now
I removed the remaining bits of old core from the lazarette hatch that I'd disassembled earlier, and sanded the surfaces clean to prepare for rebuilding.  At the same time, I sanded the forward hatch and cockpit locker hatch to begin the necessary preparations there.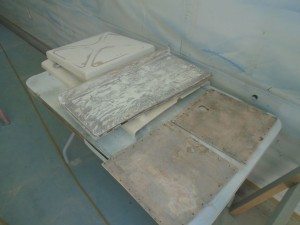 During my initial round of "uncoring", I'd left alone for the moment the poop deck.  Now I went ahead and cut off the top skin over the entire area, staying back far enough to remain within the boundaries of the core within.  After removing bits of old core that remained, I sanded the whole area, and ground tapered edges as needed to prepare for new material during a later stage of reconstruction.  I saved the old top skin so I could later recreate the raised hinge mounts for the hatch.
After cleaning up the boat and shop from the past few days' efforts, I got back to work on the areas requiring new core, and, using a variety of tools, stiff sandpaper, and whatever was neeeded, reamed out any remaining old core from beneath the edges of the repair zones before blowing out the gaps with compressed air and vacuuming the remains.
With green masking paper, I prepared simple templates of the various areas, which I used to cut core to fit or, in the case of the mast step area, fiberglass to till the void.
As a first step in the ultimate repair of the cockpit locker gutter system, which had pulled away at the forward and outboard edges, I prepped and cleaned up the area as best I could, and forced a thickened epoxy adhesive into the cracks before clamping the gutter tightly, and applying weight to the inner skin of the forward cockpit seat.  This portion of the repair would hold the gutter where it needed to be as I continued work nearby, and would better allow me to address a more structural repair a little later.
Total Time Billed on This Job  Today:  5.75 Hours
0600 Weather Report:
40°, mostly clear.  Forecast for the day:  Mostly sunny, near 70