December 11, 2015
Aventura 50
Friday
Although I began the day as usual with the prepwork for the next coat of varnish on the coamings, as the day wore on I ultimately decided to focus on finishing up the hardware, rather than necessarily leave enough time at the end of the day for the varnish work, and along with some time spent moving another boat into the shop during the afternoon,  in the end I didn't get to the varnish after all, but did expunge all the hardware installations from my list, leaving only the genoa winches off for now, since it would make the varnish work easier without them.
I reassembled the companionway sliding hatch with its forward stop, then slid the hatch on the tracks and installed the after stop, completing its installation,  Meanwhile, I reinstalled the varnished trim along the inside edges off the companionway.
Using some reference measurements I'd taken earlier in the project, I determined the positions of the genoa tracks, and reinstalled them.  For each track, I drilled and tapped through the toerail and deck for 1/4″ machine screws, then applied sealant before driving home the screws and installing nuts and washers from beneath.
I resecured the cockpit locker lid hinges with screws and sealant.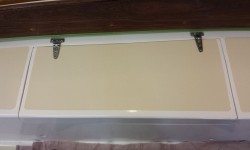 In the cockpit well, I installed a pair of new screens to protect the scuppers from debris.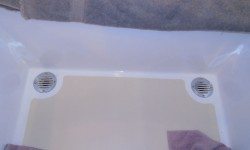 With the correct fasteners now on hand, I could finish up the mast step installation.
Finally, at the stern, I finished up the installations with the backstay chainplate, cleat and chock, and mainsheet hardware.
Total time billed on this job today:  5.75 hours
0600 Weather Report:
Foggy, 39°.   Forecast for the day:  fog, clouds, low 50s