October 6, 2015
Aventura 8
Tuesday
Beginning once more with the hull, I sanded the keel patches as needed, revealing a few lingering low spots on the port side; the starboard side patches were looking good.
After cleanup, I applied a third round of fairing compound as required.
After tooling up, I go to work on the decks.  The sidedecks and foredeck, and cockpit sole, featured a molded nonskid pattern–the original surface–that I needed to remove to prepare the deck areas for new paint.  Other areas of the deck had no molded pattern, and with original gelcoat on those surfaces I'd get to them during a later round of finish sanding.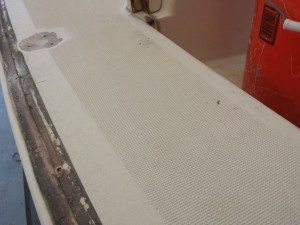 Starting with the cockpit sole, I spent the remainder of the day removing the molded nonskid pattern from the entire boat, starting with 40 grit paper and finishing up with 80 grit.  Because of the way the pattern was molded, it was deep enough in some areas as to resist complete removal, at least without removing altogether too much material.  So I balanced the need to remove the pattern with the practical consideration of leaving the gelcoat as intact as possible.  Later, as needed, I'd fill any remaining vestiges of the old pattern with epoxy fairing compound as I continued work elsewhere on deck.
Afterwards, filling in some time before an appointment in the afternoon, I disassembled the lazarette hatch for rebuilding, and removed hardware from the forward hatch to prepare it for sanding as I continued work on deck repair and surface prep.
Total Time Billed on This Job Today:  5.75 Hours
0600 Weather Report:
40°, mostly clear.  Forecast for the day:  sunny, near 70.