December 10, 2015
Aventura 49
Thursday
I spent the first part of the day lightly sanding the coamings, companionway, and loose pieces, then vacuuming and solvent washing the wood to prepare it for more varnish later in the day.
Next on my hardware list was the bow.  During deck work earlier in the project, I'd prepared the fastener holes for the bow cleat in the middle of the foredeck and marked the holes so they remained visible during painting, so to continue its installation I simply needed to drill and tap the holes in my habitual way, this time for 5/16″ machine screws.  Next door, I prepared the holes for the anchor chain hawsepipe as well, before installing both pieces with sealant and new fasteners.  I added a fiberglass backing plate and large washers to support and reinforce  the mooring cleat from underneath.
Next, I installed the stem fitting, which required three fasteners through the stem itself (the topmost of which was blind), plus a fastener through the top of the fitting and through the deck and stem toerail.  At the same time, I installed the bow chocks.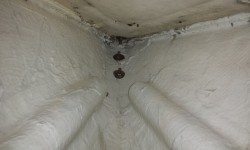 I reassembled the hardware on the forward hatch, including piano hinge, latch, and support arm, then installed the hatch back in place.
At the stern, I reassembled the stainless trim and hinge around the lazarette hatch, and installed the hatch in the deck.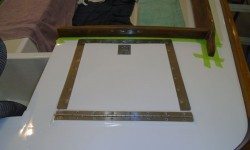 Finally, after final preparation and tacking off, I varnished the coamings and other woodwork.
Total time billed on this job today:  6 hours
0600 Weather Report:
40°, cloudy.  Forecast for the day:  Possible showers, mainly cloudy, near 50