September 29, 2015
Aventura 4
Tuesday
The old electrical system was decrepit and no longer needed nor desired, so I started the day by removing what was left of it–all the wiring, connectors, wire clamps, and electrical panels.  (After I took these photos I removed the 12-volt outlet still in place, which needed a smaller screwdriver.)
The port cockpit scupper fitting was also damaged, so I removed it, like its counterpart to starboard.  Then I removed the hoses and, finally, the old valves and through hulls, all slated for replacement.
The sink drain, with an old gate valve, was slated for replacement as well, so I removed the old fitting and hose.
An obsolete knotmeter impeller in the keel sump was next to go.  Later, I'd patch this hole.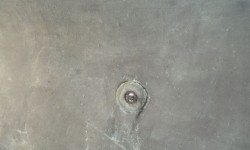 With everything of substance removed from the deck and interior, I moved on to the old toerails.  The owner requested replacement, so I removed the old rails, along with the stem fitting and taffrail sections.  I chiseled out the bungs as needed, and unfastened the rails, which went without issue.  The vinyl hull-deck trim pieces would remain in place on this boat, and during a later stage of the project I'd replace the teak rails in kind.  I found a group of tiny little bugs beneath the stem piece; they're too small to show up in the photo, but they were contributing nicely to the dterioration of these pieces.  During deck work later I'd clean up the old sealant where the rails had been.
I'd already removed the cabintop handrails, which I'd replace with new, and I thought that the companionway trim could be restored as is, but the cockpit coamings were badly weathered and slated for replacement, so I removed them next.  For the moment, I kept all the old pieces of trim for later reference.
The final bits to remove before continuing with the next stages of work were the two deadlights, which I'd reuse and reinstall later in the project.
With the disassembly complete, and an appointment in the afternoon, it seemed a good time to stop for the day
Total Time Billed on This Job Today:  4.25 Hours
0600 Weather Report:
65°, partly clear, muggy.  Forecast for the day:  clouds and sun, increasing chance of shower by evening, 70s