October 21, 2015
Aventura 14
Wednesday
Another round of sanding on the deck patches brought them nearly to finished tolerances, with mainly spot-filling remaining ahead.
The molded companionway hatch rails featured some cracking gelcoat, so I sanded these areas to remove loose material and prepare the rails for cosmetic repair.  Meanwhile, I sanded the loose hatches to prepare them for minor repairs as well.
I sanded the new fiberglass on the poop deck, removing hard edges and blending the outer edge as required into the adjacent deck areas.
Next, I cleaned up the deck and interior, and spent a little time masking over some of the fastener holes from inside to allow me to fill from the outside.  Then, I applied a coat of fairing filler over the decks, mainly as a skim coat to fill remnants of the old nonskid pattern. I'd sanded this mostly smooth earlier, but there were areas where the pattern was too deep to completely remove.  At the same time, I applied more of the filler to the deck patches to take care of the remaining low spots as needed.
I applied a coat of fairing compound over the new poop deck, filling the material weave and any minor low spots.
In the cabin, I sanded and applied filler to the inside of the instrument holes patch.
After final preparations, I filled the open edges off the rebuilt lazarette hatch with thickened epoxy filler, as well as around the opening for the recessed lifting ring.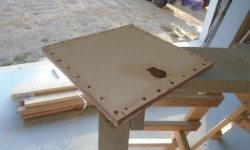 Total time billed on this job today:  4.5 hours
0600 Weather Report:
40°, mostly cloudy.  Forecast for the day:  partly sunny, low 50s