December 2, 2015
Aventura 42
Wednesday
Continuing work on the deck and toerails, I got started by lightly sanding and cleaning the toerails, companionway, and handrails to prepare for the next coat of varnish.  With that complete, I took the opportunity to apply a coat of paint to the two lazarette lockers (well, one locker and one outboard well, if you must).  I used white Bilgekote for these lockers.
Next, I applied a second coat of nonskid paint to all deck areas.
Then, I applied another coat of varnish to the toerails, companionway trim, and handrails.  (Actually, I did the companionway first, while I could still reach it before the second coat of nonskid, but I'm showing it here.)
I had a small pile of original woodwork that I planned to restore and reuse, including the companionway swashboards, some minor companionway trim, and the tiller.  This wood was heavily weathered, but in otherwise sound condition.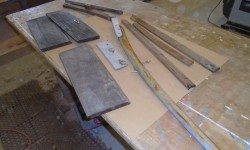 I cleaned up all the woodwork, and stripped any remaining old finish (mainly on the tiller) with aggressive sanding as required, then working through the grits to smooth and clean the surfaces for new varnish.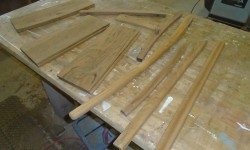 After solvent-washing the raw wood, I applied a sealer coat of varnish to all pieces.
One of the key aesthetic features of the simple interior was a pair of long, thin teak fiddles that formed the shelves on each side of the boat.  I'd removed these early on in the project to allow access for the paint work in the main cabin, and although I wasn't doing much varnish work in the cabin, I couldn't leave the fiddles as they were.  The old finish was in poor condition, and had lifted in many areas, so I chose to refinish these pieces.    Accordingly, I stripped the old finish from the boards and sanded them clean and smooth before applying a sealer coat of varnish.
Total time billed on this job today:  6 Hours
0600 Weather Report:
35°, light rain showers,  Forecast for the day:  showers, high around 40.