March 29, 2017
Halcyon 61
Wednesday
The revamped stern light was all set and ready to go, so I finalized the installation, reinstalling the fixture in its original hole at the transom and making up the wiring connections.
While working on the mast earlier, I'd also taken the opportunity to apply maintenance coats of varnish to the tiller, and now it seemed the best place to store it was back in place in the cockpit.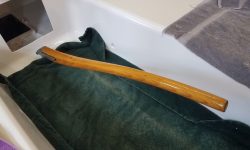 I cleaned and polished the existing hull paint, removing dust and minor grime and improving its appearance, and touched up the paint in a few small areas that had been damaged at one time or another.
At this point, the work list was complete, though I awaited new standing and running rigging (currently underway), as well as new interior and cockpit cushions.  New updates to follow as progress on these final tasks dictates.
Total time billed on this job today:  2 hours
0600 Weather Observation:
34°, clouds and drizzle.  Forecast for the day;  eventual clearing, 40s