January 25, 2017
Halcyon 19
Wednesday
After chiseling out the little notch in the back side of the new companionway trim piece, I test-fit the piece again, making some   fine adjustments till it fit properly.
During this fitting process, I found that the base trim piece was loose, the old fasteners having failed, so I removed that as well so I could better clean up the area for reinstallation.  Ultimately, I  decided also to remove the port companionway trim for sanding and reinstallation, since its installation was similarly loose.  Later, I sanded clean the old faying surfaces of the molded opening, pending final reinstallation of the trim pieces a little later.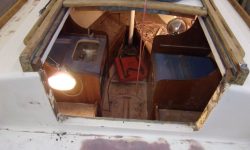 I spent the bulk of the day sanding all the exterior trim to remove final bits of old finish and smooth the wood surface.  The wood, as anticipated, was in fair condition considering its age, with various staining, dents, and so forth, but it would look pretty good once refinished.  While I was at it, I dressed up the deck, cabin, and cockpit surfaces with 120 grit on a vibrating sander, the final sanding stage for these areas.  I had a couple minor regluing repairs underway when I took these photos, which explains the clamps seen here and there.
Later, I cleaned up the main set of chainplates, removing old paint, sealant, and surface rust.  In a couple spots, the rust had etched into the surface metal a bit, but it didn't appear at this time to extend below the surface.
Total time billed on this job today:  6.75 hours
0600 Weather Observation:
34°, drizzle.  2″ sleet and sodden rainy mess left from yesterday.  Forecast for the day:  Clouds and eventual sun, 40