December 21, 2016
Halcyon 1
Wednesday
Halcyon, a S&S Sailmaster 22 (year of build unknown), has been in the same family for over three decades, and while she'd been well maintained throughout that time, her age and normal wear and tear had begun to catch up, and the owners wanted to make some lasting improvements to bring the boat through the next years of use.  The proposed scope of the project would focus mainly on the decks and interior, as the owner had had the hull painted with one-part paint fairly recently and was happy with its current appearance.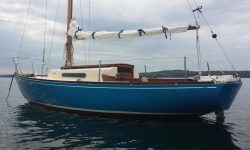 One of the first items on the rather extensive work list  was to assess the condition of the bottom and determine what, if anything, was required there.    Now that I was gearing up to begin work on the boat, I took an opportunity to look over the bottom.  I chose to do this early on so we could determine what course to take before diving into other parts of the project.
(Note:  all photos clickable for full size)
The bottom featured numerous layers of antifouling paint, mostly in fair to good condition, but with the inevitable evidence of past areas where the paint had flaked away and been painted over.
In the flattest, least-supported sections of the boat–that is, the after sections of the boat, starting roughly amidships and running towards the deadwood–the paint had cracked and begun to crack, a normal condition seen in areas of hull flex, but mostly the paint remained well-adhered, though there was substantial buildup.  The flaking issue was neither catastrophic nor widespread.
Given the existing condition, and the intended use of the boat, at a minimum my suggestion was to scrape and heavy-sand the loose areas as needed before repainting, simply to ensure reasonable adhesion of the new coating.  No one likes stripping bottoms, but certainly it was something to be considered here for the long-term, as it appeared it had never been done before. If this was the chosen course, it was a job I planned to take care of first, before moving on to the rest of the project.