February 27, 2017
Halcyon 42
Monday
Next on my agenda was the interior brightwork, most of which required only maintenance topcoats, as I'd determined earlier that the existing finish in many areas was sound and ready for sprucing up.  I'd stripped the damaged finish from the berth fiddles fore and aft, so these were now bare wood and would require several base coats to bring them consistent with the other areas.
Preparing, I masked around the varnished trim where needed, mainly against berth tops and the new paint in other areas, then applied a thinned sealer coat of varnish to the bare wood areas.  I'd build up these areas with several coats before completing all the maintenance coats on the bright cabin surfaces.
Meanwhile, I continued base coat buildup on the various loose trim and woodwork.
The centerboard winch had once been secured to the fiberglass riser with a metal U-clamp that had once been integral with the base of the winch, but that assembly had disintegrated from corrosion.  All this clamp did was hold the base of the winch assembly (and the top of the riser) steady with one another.    The whole metal winch assembly was built into the deck above, making replacement–even if a replacement was available–a major but fortunately unnecessary chore.  While the remnants of the winch assembly were badly rusted, there was sufficient structure remaining to maintain function going forward.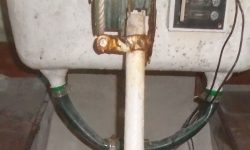 With no  way to revamp that original system, but wanting to secure the base of the winch once again, I wrapped the area in a fiberglass clamp of sorts which, when, cured, would effectively hold the pieces together once it cured, performing the same function as the original clamp.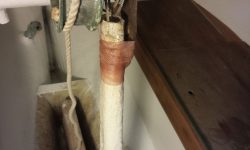 After final preparations, I applied a coat of white Bilgekote to the lazarette and the undersides of the two-part lid.
Total time billed on this job today:  5.75 hours
0600 Weather Observation:
20°, clear.  Forecast for the day:  Sunny, 49°