February 1, 2017
Halcyon 24
Wednesday
My work list this week was geared towards completing various tasks that I needed (or at least wanted) done before I focused on deck primer.  Chief among these tasks was, of course, the exterior wood refinishing, and this had inadvertently (can one do anything advertently?)  limited some of the other chores on my list since I chose to limit new dust production.  I'd postponed some of my planned interior work till later in the week, so now I focused on a few items on the list that I could do easily before turning to the third and final coat of Cetol wood finish on the exterior brightwork.
I was working on sourcing some replacement (original specification) hardware for some of the items I'd removed, and wasn't yet sure what hardware would be going back as is.  With various hardware locations and fastener holes already fully prepared, I wanted to mark their locations before I covered the deck with primer.  If I'd been sure exactly what hardware would be going back, I could drill small locator holes that would survive the primer application, but I didn't want to do that when the hole patterns might change.  Instead, I created a simple paper pattern of the foredeck, where I marked the various locations–specifically the anchor chocks and foredeck cleat–with an awl and marker so I could recreate these locations later.
I did plan to mark a few other locations with a small drill bit, but I decided to wait till I was all done with the exterior wood refinishing before making drill spoils on my clean deck.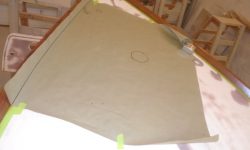 One side of the lazarette hatch, and the tiny section of aft deck behind the hatch opening itself, featured cracks that required reinforcement from within–one of those tiny tasks that I'd kept forgetting about during the past weeks.  Now, I prepared these areas and applied fiberglass over the insides of the cracks to strengthen these areas before some final exterior surface preparations later in the week.
The rest of the prep work in the cabin would have to wait till later in the week, so I turned to the third and final coat of Cetol wood finish on all the exterior wood.
Total time billed on this job today:  3 hours
0600 Weather Observation:
19°, light snow.  Forecast for the day:  snow, a couple inches.