February 3, 2017
Halcyon 25
Friday
With the exterior wood refinishing complete, I removed the masking tape from all areas except the outside edges of the toerail, which was still holding the protective plastic in place over the hull.
Armed with a finishing sander and various sandpaper, I sanded all the woodwork in the cabin as needed, including the trim that I'd stripped, plus all the other trim and bulkheads to prepare them either for paint or new varnish work.  My patchwork on the lower bulkheads would require some additional filling in a second round a bit later, but for now at least I had the heaviest sanding out of the way, and after cleaning up the interior was basically ready for new work.
While I still had the sanding vibe going on, I sanded the fairing compound over the repaired through hull on the bottom, more or less completing that area as well.  Later, marked and drilled small pilot holes for some of the deck hardware, including the bow pulpit and lifeline stanchions, to aid me in relocating the hardware later after the painting was complete.
Now, with this final of the "dirtiest" chores complete, I could turn to the beginnings of preparation for deck primer and paint, starting with thoroughly cleaning up the boat and shop, blowing, sweeping, and vacuuming up dust from the various work over the past weeks and, later, washing down the floor and staging to settle and remove the final bits of dust.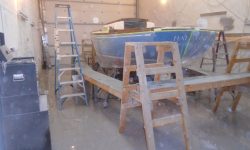 After solvent-washing portions of the interior, I masked off some of the openings, including some hardware holes in the foredeck, the cockpit scuppers, and the insides of the port openings in the cabin.  Though I was running out of time, it was still tempting to start masking some of the woodwork and deck areas to advance the project a little more before the weekend, but in the end I decided I really wannted to (as I'd planned all along) leave the fresh brightwork for several days before overmasking, so I called it a day–and a week.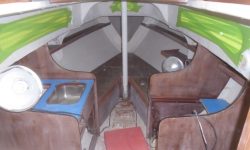 Total time billed on this job today:  7 hours
0600 Weather Observation:
6°, clear.  Forecast for the day:  sun, increasing clouds, maybe a snow shower, 28°