March 14, 2017
Halcyon 53
Tuesday
To deal with the problem I'd had with the scupper hoses sliding off, I stared by scuffing up the paint on the fiberglass nipples, which roughed up the surface and also allowed me to push the hoses up a bit further, at which time I successfully clamped them in place securely.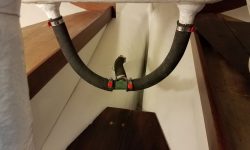 I finished up the galley sink and icebox drains with new hose and clamps.
The deadlights had had ample cure time, so I removed the clamps and cleaned up any excess cured sealant.  I prepared the back, or inside, of the new windows by trimming the protective masking where the inner frame overlapped the new lenses.  Final installation was scheduled for later in the week.
Preparing ahead for the arrival of the new electrical service panel, I built a small box from leftover teak and teak plywood  to hold the panel and secure it to the boat.  I designed the box to hold the panel and its wiring, while fitting nearly over the smaller plywood box that was fiberglassed to the boat in the old location, which was too small to hold the new panel.  Once I'd completed the construction and test-fit the new enclosure, I applied a number of coats of spray varnish during the remainder of the day.
Later, I installed the forward-facing opening port in the cabin trunk.
Total time billed on this job today:  4.25 hours
0600 Weather Observation:
18°, mostly cloudy.  Forecast for the day:  snow, heavy during the afternoon and evening, 12-18″ forecast.