March 13, 2017
Halcyon 52
Monday
The last bit of hardware on deck was the anchor chocks, which I'd held off on till I could find a suitable anchor–which I had.  Now I used my foredeck pattern to mark the original locations of the chocks on the foredeck, corresponding with the old fastener holes that I'd overbored and filled with epoxy earlier.  I double-checked that the replacement anchor fit the same footprint as the one it replaced.
With the holes marked, I drilled and tapped for machine screw fasteners, and masked off around the various pieces of the chock hardware before installing it with new bronze fasteners and sealant.
Note:  the anchor is primed but not painted with its finish coats.
Next, I worked on the electrical system, running wires to the various lights–two cabin lights and running lights–and home-running them to the aft end of the cabin, where they'd eventually connect to the new service panel.  I installed the running lights on the sides of the cabin, as well as the interior lamps, and tightened and secured the wiring back to the panel location afterwards.  I left the covers off the running lights for now so I could test operation and replace one of the bulbs.  I led a wire aft to the transom where it awaited one of the stern lighout housings when I could rebuild it.
The fiberglass water tank featured an access port in the top, and the owners requested that I see about cleaning out the tank.  Removing the port was straightforward, just lots of painted-on wing nuts, and eventually I removed the hatch  to gain access within.  While the tank wasn't exactly pleasant, it wasn't as bad as I'd feared, and after I sponged out the stagnant water and the worst of the debris, I cleaned the inside with soap and water and a scotch brite pad, with reasonable success.
Afterwards, I reinstalled the access port, this time with new nuts and washers.
Next, I ran a new supply hose from the tank to the sink pump.  I had to order some hose for the fill pipe, and would install that as soon as it arrived.
I turned to the cockpit scuppers, and prepared new lengths of hose to fit the bronze tee fitting that had been originally installed–two cockpit scuppers leading to a single through hull.  After I took these photos, I found that the hoses were slipping off the scupper fittings beneath the cockpit:  the fiberglass fittings were sort of tapered, and clamping pressure tended to force the hoses off.  I actually shortened the scupper hose lengths, hoping that a different angle would work better, but the problem persisted.  So as of this writing I had some more work to address this problem, but expected to solve it shortly.  This seemed like one of those problems to simply leave till a new day.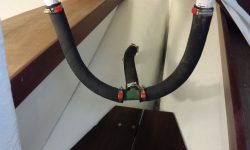 Total time billed on this job today:  7.75 hours
0600 Weather Observation:
10°, clear.  Forecast for the day:  sunny, 25°