February 14, 2017
Halcyon 32
Tuesday
After spending the morning clearing snow and preparing for the next round in another day or so, I got to work in the shop with final preparations for the gloss topcoats on the deck.  During the afternoon, I laid out and masked off the eventual nonskid areas, leaving borders around the edges as necessary for appearance and function.  I covered the field areas with paper to protect against overspray.
Afterwards, I cleaned up the shop and washed down, and finished up with a final vacuum and solvent-wash along with early preparations for the paint and spray equipment.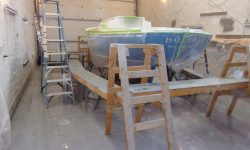 Total time billed on this job today:  3.25 hours
0600 Weather Observation:
12°, clear.  24″ or so of snow yesterday..  Forecast for the day:  sunny, high 20s.