January 16, 2017
Halcyon 12
Monday
I removed the weights from the port chainplate area, where I'd installed new core last time.  I'd continue work on this area in the near future.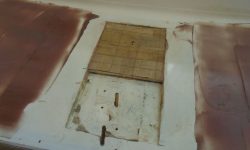 I spent the morning preparing and sanding the deck areas with two grits, smoothing and removing the excess skim coat as needed.  This left the material mainly in the vestiges of the old molded nonskid pattern and along the channels, where the pattern had been slightly raised, as well as in a few low areas here and there.  There'd be some minor additional filling required, which I'd handle soon, along with additional rounds of finish sanding throughout the process.
Next, I turned to the poop deck, where I spent some time on final preparations before laying out and cutting new sections of balsa core to fit.  Where possible, I extended the coring beneath the existing deck edges, leaving a few areas where the bottom-skin taper prevented installing full thickness of new core material.  I omitted the core in way of a known hardware location near the lazarette hatch, and I'd fill any small remaining gaps with thickened epoxy during the core installation.  On the starboard side, I left a narrow area extending forward along the sidedeck for now, and planned to rebuild it with fiberglass  later.
After final preparations, including cleaning the deck areas and bonding surfaces, wetting out the core with unthickened epoxy resin, and other tasks, I installed the new core in thickened epoxy adhesive, securing it with weights while it cured.
To finish up the day, I cut various fiberglass patches and installed them on the myriad test holes around the decks, which areas I'd previously dished out to accept the fiberglass.  The little patches would prevent the filled holes from printing through or cracking later.
Total time billed on this job today:  7 hours
0600 Weather Observation:
8°, clear.  Forecast for the day:  Sunny, 30s