December 13, 2016
Acadia 55
Tuesday
I spent the morning reassembling hinges and so forth on the varnished doors, then reinstalling all the doors and drawers in the boat, along with the base trim in the nav station foot well.  The base trim on the remainder of the cabin sole would wait till I completed the varnish work there.
The port door over the upper electrical service locker on the aft cabin bulkhead needed some latch modification.  The original slam latch receptacle had at one time in the past been reinstalled upside down or sideways, and didn't function properly to capture the screw on the back of the locker door.  I knocked the mounting block loose from the inside of the locker and, after cleaning things up a bit, reinstalled it in the correct orientation with some epoxy adhesive, clamping the block in place while the epoxy cured.
I lightly sanded the varnish on the cabin sole, then applied another gloss coat only to the little trim areas, thresholds, and center strip and hatches, attempting to bring these areas to a similar beginning state as the main sole panels.  I hoped to apply satin varnish to the entire sole next time.
I also varnished the exterior side of the companionway swashboards, which required only this maintenance coat.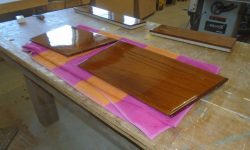 Total time billed on this job today:  4 hours
0600 Weather Observation:
10°, clear.  Forecast for the day:  sun and clouds, 32°