October 13, 2016
Acadia 17
Thursday
After some quick and easy sanding, the old instrument patch was fairly smooth and ready for a minor second coat to take care of a couple low spots.
Though I'd await final installation till the engine foundation was in place, now that the platform was painted, I installed the after screws to hold the waterlift muffler in place, and dry-fit the forward pair of screws.  This would make final installation a cinch as the space became tighter to access.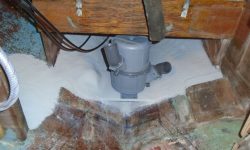 Meanwhile, I went ahead and installed the suction side of the raw water intake hose.  Once the engine was in place, I'd complete the run from the filter to the water pump.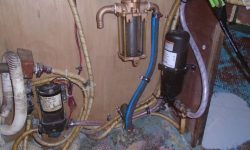 After collecting some materials from stock, and ordering various other things I'd need in the near future to complete some final installations (blower hose, exhaust fittings, etc.), I prepared the new fuel gauge for installation in the now-empty engine ignition panel inside the lazarette.  After drilling the required hole, I led in new wiring and made the connections before securing the gauge in place.  Afterwards, I made up the new wiring at the fuel tank sender, replacing the original wires to the source, and attached the power/ignition wire to the appropriate terminal on the engine key switch; this would energize and light the gauge whenever the engine was running.
Total time billed on this job today:  5 hours
0600 Weather Observation:
52°, cloudy.  Forecast for the day:  clouds, fog, drizzle, rain showers late.