November 1, 2016
Acadia 28
Tuesday
I continued work on the saildrive opening.  As needed, I sanded the latest round of fiberglass and, after cleaning up, applied a coat of fairing filler around the opening.
The owner wanted to reroute the icebox drain, which had led to a small hand pump that he said had failed to work satisfactorily.  To this end, I removed the pump and prepared new lengths of hose for the drain, and removed the old discharge hose that had led all the way to the galley sink drain, where I installed a plug in the old line since there was no way to completely eliminate the original fitting.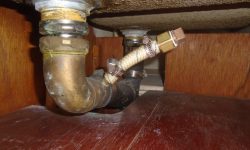 This opened up additional space in the engine room near the water pump, and this turned into the ideal location to remount the water tank selector valve that I'd removed from near the port water tank earlier.  I mounted the valve on a block and led the hoses as required, marking the handle and bulkhead accordingly.
I installed the hose fittings on the new water heater, then installed the heater in the quarterberth locker, securing it to the locker's floor with screws.  I made up the final hose connections to the tank.  For the electrical connection, I ordered an outlet and box to install, since the heater was equipped with a normal plug and I thought it best to keep it as is rather than reconfigure it otherwise.  I'd complete that hookup as soon as the parts arrived.
Next, I turned to the port water tank, and a means of better securing it in place.  The old system, with a cleat against the settee bulkhead and a metal stiffener bar across the top of the plywood, had failed to properly constrain the tank.  To better secure it, I cut a plywood cleat to fit across the aft end of the space, and notched the cleat to accept two longitudinal beams that would hold the plywood tank top in place.  I secured the cleat to the bulkhead with screws.
At the forward end, I repurposed an original plywood cleat, notching it as well to secure the beams.  I installed new, larger screws in the cleat against the settee front, and secured the forward cleat with four bolts through an intermediate bulkhead at the forward end of the tank, securing the beams in place yet making removal easy should it be required.
With a new fuel primer bulb now on hand, I finished up the fuel system by installing the bulb on the suction side of the filter.  This worked well to easily fill the filter with fuel, once I opened the fuel valve for the test.
Total time billed on this job today:  6.75 hours
0600 Weather Report:
24°, clear.  Forecast for the day:  sunny, 48