December 22, 2015
Danusia 6
Tuesday
I continued work on the decks, this time mainly on the starboard side, where I cleaned up and polished the cabin trunk and borders on the sidedeck.
With the main deck areas complete, I moved up to the coachroof and portions of the cockpit, and took care of various borders and smaller areas around the hatches and elsewhere, which, as with other deck areas, started out with various levels of dirt, oxidation, and other staining.
For now, I left the main part of the cockpit well untouched, but cleaned up all the areas bordering brightwork so I could get moving on that project soon.
I used some rags to soak up any remnants of liquid from the bilge, and sanded away the paint from the new garboard drain area to prepare in advance for its installation later.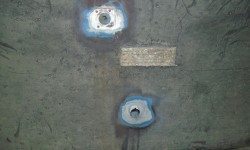 I'd hoped to finish up work on the windlass removal, hoping my saw blades would arrive in the early afternoon, but the usual increased package demand and traffic from the last-minute holiday rush caused my normal delivery to be much later than usual (not unexpectedly), too late for me to move forward with that project.
Total time billed on this job today:  3.75 hours
0600 Weather Report:
25°, cloudy.  Forecast for the day:  clouds, rain late in the day.  High 44°