February 24, 2016
Danusia 43
Wednesday
During the morning, my intrepid canvas contractor Jason was on site to perform the initial fitting of the new winter cover.  He likes to sew up the rough blank for the cover first (after taking some basic measurements, which he did a few days before), then use the actual cover to template the final shape, cutting it around any obstructions like rail mounts.  The material is a heavy vinyl product used for flatbed long-haul trucking and similarly severe services.  It's one downfall is that it isn't breathable, so the frame and cover design would incorporate substantial natural ventilation through the boat (through openings at stem and stern), with some additional features learned over a few past covers of this general type.
On this boat, with the new frame design at the forward end, the stern rail was the only real obstruction requiring this sort of layout and fitting, and the process went smoothly.  The cover blank was in two pieces split at the forward end of the cockpit.
With the rough blank held temporarily taut with small lines and temporary grommets, and the relief cuts made as required, Jason finished up the first round of work my marking 5″ up from the toerails all the way around the perimeter of the boat, which demarked where the vinyl cover material would end and transition to a breathable heavy cotton fabric to wrap over the toerails and hull to about the cove stripe level.  This design would prevent chafe damage at the rails, and also allow better airflow and drying out.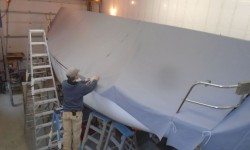 Once he was done with this work, and had departed with the cover to finish the work as his shop, I could get back to what I needed to do, which was sand the boottop and apply a second coat of the blue-gray paint.  Actually, I'd sanded and cleaned the stripe before Jason's arrival in the morning, so at this point I could get right to the painting.  Later in the day, impatient, I removed the masking tape to better display the new paint color and finished appearance.  The little tabs of green tape seen hither and yon in these photos show areas where the tape tore at the edge of the stripe, and I didn't dare try to remove the tiny remaining bits while the paint was still semi-tacked.  I'd remove the final ragged edges of tape once the paint was dry in the morning.
Meanwhile, I applied another coat of varnish to the windlass base.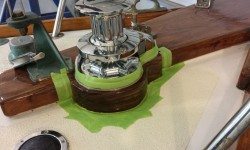 Total time billed on this job today:  1.5 hours
0600 Weather Report:
22°, light snow, about 0.75″ on the ground.  Forecast for the day:  light snow changing through freezing rain, sleet, and rain, high somewhere in the 30s.