February 25, 2016
Danusia 44
Thursday
This day was all about the final loose ends and wrapping up the project, mainly some final cleanup.  I put the staysail boom back in place (I'd removed it early in the job), and stored the main boom and dodger frame back on deck where I'd found them.  Then, I reloaded the anchor rode, feeding the bitter end of the line through the windlass and eventually pulling it down from inside the chainlocker with the windlass clutch unlocked, allowing free spinning–kind of a long process, but there was no other way to easily do it at this point.  I'd originally thought that the forward part of the windlass base was removable to allow access to the chain pipe beneath–and it was, technically–but I found that the capstan and wildcat would have to be removed first, and I didn't want to go that far.
I'd intended to install a locking pin to secure the anchor and chain in the raised position, but with the whole arrangement finally in place there wasn't a good place for that hardware, nor did I feel it would be particularly useful or even easy to use versus a simple lashing that would work better.  So I decided not to install the hardware, but did decide that a protective plate would be required for the anchor platform to help save the surface from the chain as it passed over.  I ordered a piece of bronze plate that I'd shape and install later.  Finally, I applied more varnish to the windlass base, the only detail still underway.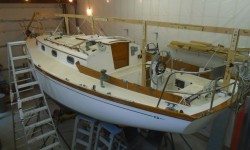 Total time billed on this job today:  2 hours
0600 Weather Report:
53° (yes, really), heavy rain and strong to severe thunderstorms (yes, February).  Forecast for the day:  rain ending, remaining warm till later in the day, then cooling with a front and more rain showers.