February 23, 2016
Danusia 42
Tuesday
I lightly sanded the boottop primer with 320 grit paper to prepare the surface for the topcoats.  After the usual rounds of cleanup, I applied the first of a couple coats of the owners' chosen color, a gloss enamel in a blue-gray color.
I finished up the solar panel re-wiring by running the two wires through the new cable clam, which I drilled to accommodate the two wires as needed, and installed the fitting in the deck where I'd prepared the opening earlier before reconnecting the wires to the controller in the locker beneath.
The owner stopped by to check out the nearly-completed project, and we hooked up a temporary battery in order to  test the windlass, which worked well and as expected.  I didn't think to take any video of the windlass in operation, but both foot switches and the hand-held key fob-type remote control worked as required.  Afterwards, I continued the varnish work on the little windlass block.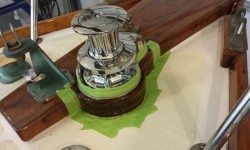 Total time billed on this job today:  1.75 hours
0600 Weather Report:
5°, clear.  Forecast for the day:  sunny with increasing clouds in the afternoon, high 32°