July 11, 2015
Nomad 3
The first order of business now that the boat was in the shop was to remove the old outboard.  I planned to get going on the hull work as soon as I could, and the outboard was in the way, and was annoying me since I couldn't straighten it out thanks to the non-functional steering at the moment.
During my earlier test-run, I'd already removed the fuel line leading to the boat's own fuel tank, and I'd removed the steering hoses from the outboard's cylinder earlier also.  So the only things still attached to the motor were the control cables, and the electrical cables.  These were all straightforward to remove.
There was an add-on Kort nozzle on the outboard's propeller, presumably to help focus thrust.  I'd no idea whether this was something useful or required for this particular boat, but in any event I thought I'd remove it and keep it on hand should it be useful someday–and I didn't plan to sell it with the old engine.    Removal was a matter of six bolts along the top of the lower unit, and four more on the lower unit's skeg.
Next, I removed the locknuts from the four bolts securing the outboard to the transom, and loosened all the remaining nuts.  Then, I prepared a lifting harness from a pair of chains, one below the forward part of the motor and the other aft to form a bridle.  I added a strap between the chains to prevent any chance of the aft one slipping.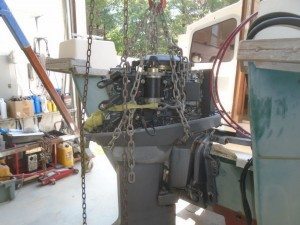 Because of the way my gantry crane was stored in the shop, it was easier to pull the boat forward on her trailer to the crane rather than move the crane aft.  Once I had the stern positioned beneath the crane, I hooked up the lifting hook and took a strain, which allowed me to remove the four bolts completely and lift off the engine.
I'd need to build a simple stand for the engine, but for now I rested the skeg on the floor and held it with the chain hoist, and returned the boat to her original position in the shop.  Then, I removed the old throttle control, cables, wiring, and steering hoses from their run in the boat–all would be replaced during the repower.  I used one of the cables to pull through a messenger line to make future new runs easier.
With the outboard and its related detritus out of the way, I'd soon be ready to start some work on the hull–my chosen first task.
Total Time Billed on This Job Today:  2.25 Hours