April 2, 2016
Nomad 24
Saturday
I prepared the starboard window opening by scraping away any remnants of old sealant on the exterior of the boat, left over from the original installation.  Then, I dry-fit the window to make sure it still fit the opening.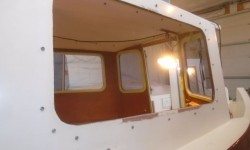 With the window still on the ground, I applied beads of sealant around the mounting flange and at the junction between the flange and the window frame, then inserted it into the opening and clamped it temporarily through the open part of the window.    Inside, I installed the split trim ring, securing the window in place.
Back outside, I cleaned up the excess sealant from around the frame, completing the installation.
Total time billed on this job today:  1.25 hours
0600 Weather Observation:
40°, cloudy.  Forecast for the day:  clouds and showers, high around 45