May 18, 2016
Waanderlust 4
Wednesday
Now that the backing block was complete, there was nothing holding me back from completing the centerboard winch installation.  I bolted it into place with 3-1/2″ bronze bolts from inside, adding butyl sealant and washers/nuts from outside to hold the winch in place securely.
The centerboard cable had been wrapped and secured around the pole that led from the centerboard trunk to the overhead, and now I used a small jack to push and support the centerboard itself (which had been drooping down slightly from the keel) into its trunk so I could unwrap the cable and lead it to the winch.  I secured the bitter end of the cable within the winch drum, and then tightened the drum with the handle to take up the cable accordingly, completing the installation.
The new 13RH10 3-blade propeller was now on hand, so I installed it on the shaft.
Though there'd been no evidence originally (from when the boat arrived here) of debris screens over the cockpit scuppers, they'd clearly shown a propensity to clog with debris through their wide-open tops, so I installed simple screens over the openings to keep out large pieces of debris.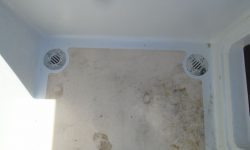 I'd purchased batteries for the boat earlier in the week, and now I installed them:  a group 24 starter battery, and a group 27 house battery.  All the wiring was already in place and awaiting the installation.  Afterwards, I tested all the lighting aboard and everything I could for now.
Continuing the minor repair to the port coachroof edge, I sanded the epoxy from last time, preparing it for primer.  After masking off, I applied a few coats of white epoxy-based primer to the area.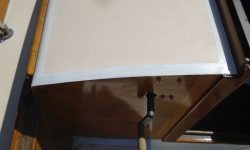 Total time billed on this job today:  2.5 hours
0600 Weather Observation:
40°, clear.  Forecast for the day:  mainly sunny, 60