July 27, 2016
Rhodes 12
Wednesday
I spent the morning sanding the new primer with 220 grit paper on a vibrating finishing sander and by hand as needed.  The overall effect of the primer was good, and it would provide a consistent surface for the finish primer later.  With sanding complete, I vacuumed and solvent washed the surfaces to prepare for the next step.
Along with the earlier rounds of fairing filler that I'd applied to help ameliorate the heavy crazing on the hull and deck surfaces, the high build primer was a further means of additional filling of small cracks, but inevitably the primer also highlighted various areas that required some additional work–this being one of the intended purposes of this primer step.  Mixing up a batch of fine epoxy fairing compound, I went around the boat and filled any visible crazing and cracking, along with pinholes and porosity in the laminate or previous rounds of fairing material.  This photo shows the type of minor crazing and pinholes I addressed at this stage, highlighted here by the fine filler: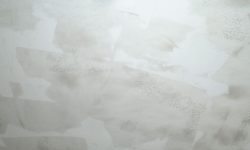 With gelcoat crazing so widespread over the original boat, it was no surprise to cover a good bit of the boat with the fine filler, particularly portions of the hull where the crazing had been the worst, but this additional step would help provide the desired substrate for finish primer and topcoat later.
Total time billed on this job today:  4.5 hours
0600 Weather Observation:
60°, sunny.  Forecast for the day:  sunny, high 80s/low 90s