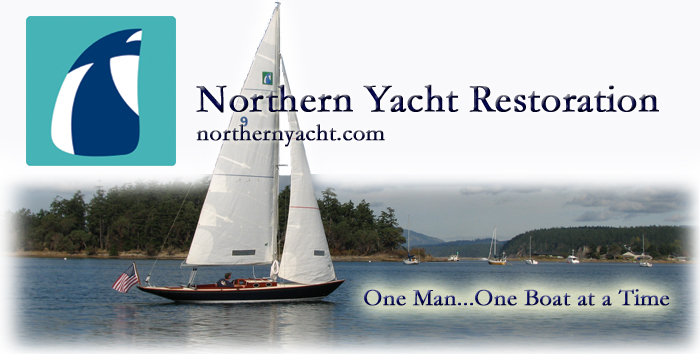 110 Cookson Lane | Whitefield, ME 04353 | 207-232-7600 | tim@lackeysailing.com
Waanderlust Project | Tuesday, September 14, 2010

Before continuing with the sidedeck taping, it was time for some layout. The future toerail would sit just inboard from the rounded corner at the hull/deck joint, which meant that the outer portion of this area would eventually receive hull color, so I had to determine where to place the tape and paint seam. Also, I needed a consistent border width inside the eventual toerail.

Using a short piece of scrap more or less the anticipated thickness of the future toerail, I determined where the toerail would rest on the boat and made a mark roughly in the center of the board's thickness, demarking the location of the division between hull and deck paint colors. I'd mask to this line from the outside.

Inboard of the toerail mockup, I measured out 1-1/2", the width of the borders I'd used elsewhere on deck, and made some marks.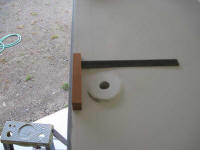 With a compass held against the radius at the deck edge and set to the distances required, I drew out the two reference marks I needed to strike my tape line. The inner line represented the inboard edge of the paint border; the outboard line represented the seam between hull and deck paint, which would be covered by the toerail once it was installed.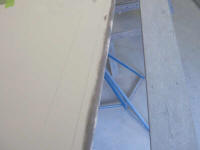 Thusly marked, I completed the remaining taping, taping to both lines as needed. Around the six lifeline stanchion base pads, which featured molded, circular flats on the deck at each location, I left a 1" border, as the 1-1/2" size was too large for this application. I completed both sidedecks in this manner, filling in the field portions with masking tape and paper as needed to protect from overspray.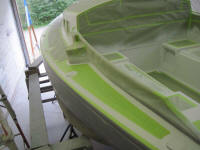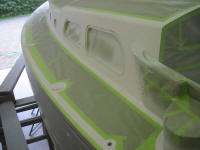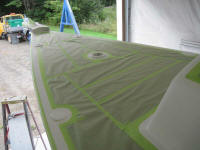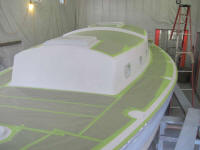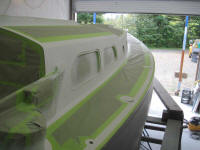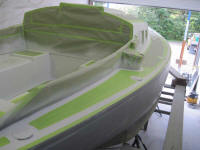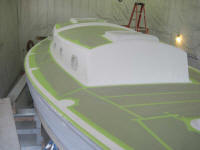 At the stern, I used the old wooden taffrail as a guide to determine how much of a border to leave at the transom edge, and masked off the curve accordingly. Around the lazarette hatch opening, I added extra width to the border to allow for a finished width of 1-1/2" once the hatch was installed.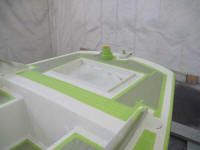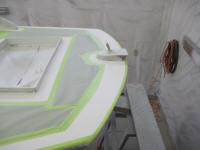 Afterwards, I protected the hull with plastic and tape. I rounded out the day's work with a final solvent wash on the deck areas, shop rinse-down, and other paint prep for tomorrow's topcoats.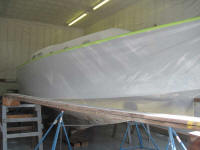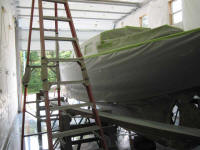 Total Time Billed on This Job Today: 4.5 hours