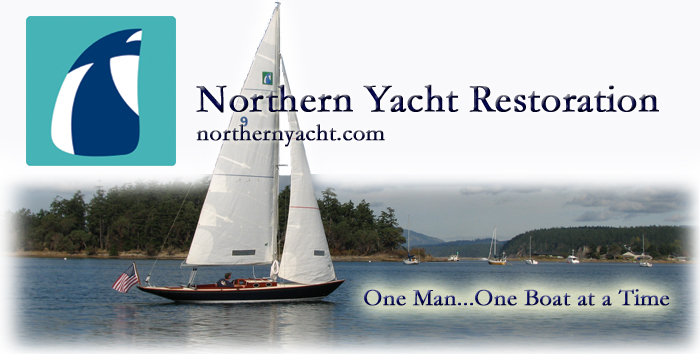 110 Cookson Lane | Whitefield, ME 04353 | 207-232-7600 | tim@lackeysailing.com
Waanderlust Project | Thursday, June 3, 2010

After a couple patchwork weeks rife with other commitments, I finally had a full day at the shop. I spent the day removing the paint from most of the remainder of the hull, working my way down the starboard side and back up the port. I left the transom for tomorrow, as well as a small section of the port bow that I didn't have time to finish before the end of the day: it was slow going in the larger spans of the bow sections, and the remaining section would take close to an hour to complete if the starboard side had been any indicator.

The cove stripe, set in a molded recess, featured several layers of striping tape, some of which had been simply painted over during the boat's lifetime. I removed what I could with the edge of a sanding disc, but there'd be some handwork later to finish removing the old paint and tape, and to prepare the recess for later steps.

The outline of the chainplate reinforcement blocks (for the forward and after lower shrouds) was clearly visible with the paint removed, as there'd been some print-through of these installations that created minor unfairness on the exterior of the hull. Previous painting efforts had included some moderate fairing around these outlines, but since I was unsure what the fairing material was, I removed most of it as I went, with plans to refair the areas later during surface prep.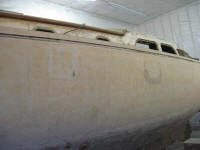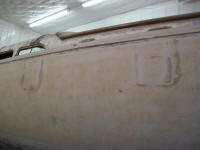 Total Time on This Job Today: 7.5 hours