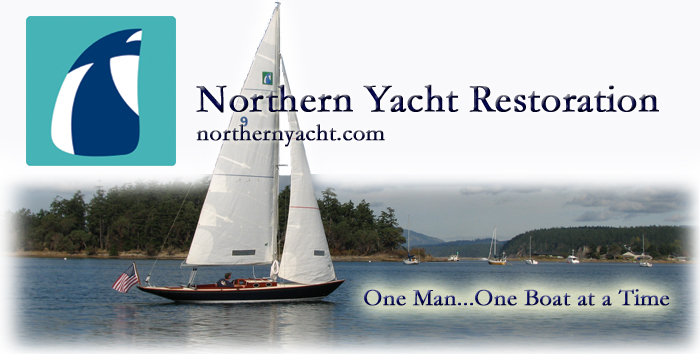 110 Cookson Lane | Whitefield, ME 04353 | 207-232-7600 | tim@lackeysailing.com
Waanderlust Project | Friday, June 4, 2010

I spent the first hour or so of the day finishing up the hull paint removal, at the port bow and the transom.

Afterwards, I reset the staging to deck height, and started working on the deck's paint removal. The deck featured fiberglass sidedecks, with a plywood cabin trunk. The existing paint was in poor condition and was badly flaking and peeling, which contributed greatly to the boat's beyond-help appearance. I couldn't wait to get the old paint off.

I began sanding on the coachroof. Unclear as to what lay beneath the paint, I sanded tentatively, so as to avoid oversanding. As I proceeded, it became clear that the plywood was sheathed with what appeared to be Dynel fabric, and I soon determined what the various layers of paint and coatings were so I could sand more effectively. There were numerous layers of paint and primer, and the paint layers contained varying levels of nonskid grit.

The Dynel sheathing on the coachroof was in generally sound condition beneath the paint, and well adhered. As I shifted my efforts to the cabin trunk sides, however, there were several areas where the bond between the fabric and plywood had failed, some of which had begun peeling even before I started sanding. This left voids in the sheathing fabric that I'd have to repair as part of the overall deck process.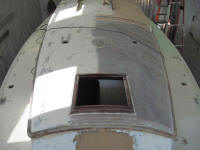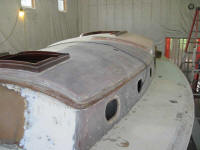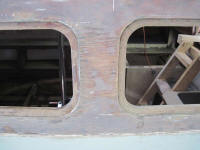 I removed the paint from the port half of the coachroof and the port cabin trunk side, then sanded a 6' or so length of the port side deck to remove the numerous cracked layers of paint and, eventually, the original molded nonskid pattern--a diamond shape--so as to get the deck substrate to a stable state suitable for eventual recoating. The various nonskid paint layers and the aggressive original molded pattern meant that it was fairly time-consuming to sand the sidedecks.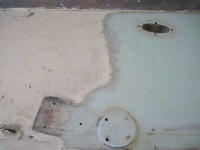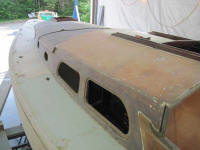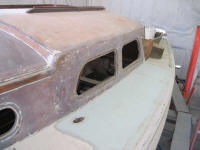 I test-sanded a bit of the port coaming while I was in the area, and was pleased to find that beneath the cracked and peeling varnish remnants and the weathered wood, the coaming looked to be sound and salvageable. Of course much more sanding and prep work would be required in the days and weeks ahead.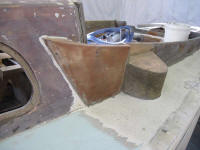 Total Time on This Job Today: 6.5 hours