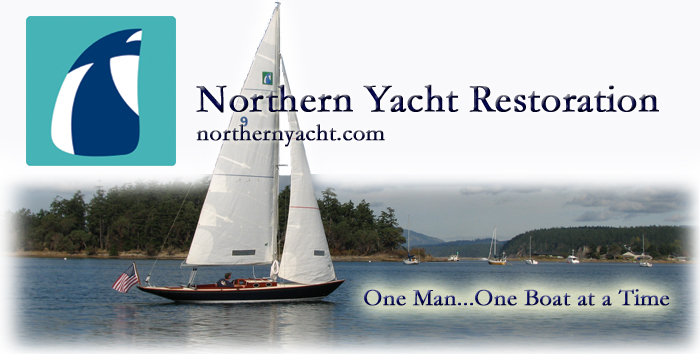 110 Cookson Lane | Whitefield, ME 04353 | 207-232-7600 | tim@lackeysailing.com
Waanderlust Project | Friday, July 23, 2010

Preparing for the upcoming hull work next week, I removed a through hull fitting that was above the waterline in the port quarter, a fitting that had been part of the complicated engine cooling/heat exchanger system. Located in the port cockpit locker, the fitting--a modern mushroom through hull secured only with a nut inside (I'd previously removed a ball valve from the stem)--was easy to remove. Later, I'd be removing many other through hulls and seacocks, but this was the only one that was above the waterline, and which therefore would have an effect on the upcoming hull prep and high-build primer.

While I was at it, I removed an adjacent tapered plug seacock and through hull which, even though it was below the waterline, would be removed anyway, and it looked like it'd be easy to remove (it was). I reserved this fitting for some future re-use, or consignment, as it was in serviceable condition. During next week's round of hull work, I'd patch and fair these holes.

In a seemingly tangential course to the paint prep I'd been working on lately, I spent the remainder of the day working on the starboard cabin trunk bulkhead in the cockpit. In order to match the port side, which had been previously sheathed in solid teak before the boat came to this shop, the starboard side required similar treatment. I needed to do the wood sheathing now, since there'd be a small amount of fairing required to incorporate the edges of the wood into the top and side of the cabin trunk, which needed to be done before high-build primer.

I spent the remainder of the morning preparing the raw teak stock by planing and edging a rough, over-thick board I had in stock down to the correct 3/4" thickness and smooth on both sides.

By lunchtime, I had the boards prepared, so afterwards I set to work laying out and cutting/fitting each individual piece. To match the port side, the layout included a vertical stile next to the companionway, an angled stile of the same width alongside the coaming board, and following its angle, and several horizontal boards filling in the field between.

I dry-fit all the pieces, cutting each to size and shape as needed, and, when complete, installed them with thickened epoxy colored with teak dust, which appeared to be how the opposite side had been installed. I left the top and side edge slightly proud of the cabin trunk for later sanding into final shape.

Once the epoxy cured (over the weekend), I'd sand the new bulkhead face smooth, fair the edge with the existing cabin trunk, and apply a sealer coat of varnish to match the port side.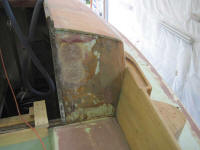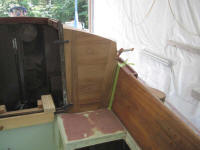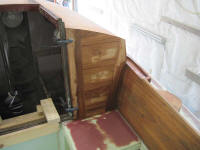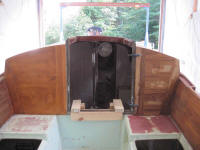 Total Time Billed on This Job Today: 6.5 hours