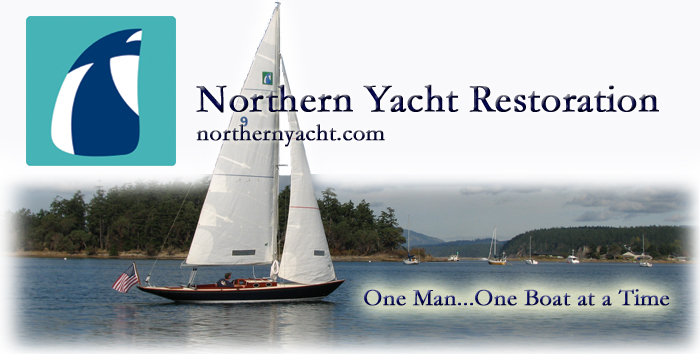 110 Cookson Lane | Whitefield, ME 04353 | 207-232-7600 | tim@lackeysailing.com
Waanderlust Project | Thursday, July 8, 2010

After the usual water wash on all the newly epoxied areas, I lightly sanded the new Dynel on the cabin trunk sides to prepare the areas for additional steps. I also longboarded and sanded the first coat of fairing material on the poop deck, revealing some of the low areas that remained.

I wanted the new Dynel for the coachroof to overlap the sides, but also wanted the seam to end up beneath the eyebrow trim when reinstalled. The happy medium between these criteria was to bring the top material down about 1/2" below the top edge of the cabin trunk material. After making some marks and applying some green tape to help me locate the line properly through the dry Dynel, I laid out the two sections of fabric, running longitudinally and split at the centerline of the boat. I brought the aft end up over the leading edge of the raised doghouse. To protect the areas beneath during the laminating process, I installed more tape and plastic to catch drips.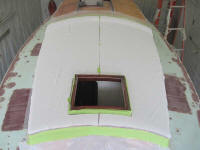 With the layout complete, I wet out the fabric with epoxy resin and rolled it tightly into place, first one side then the next. I was careful to keep the centerline seam slightly separated, as any overlap of the material would become difficult to sand and fair out. Since the old sheathing on the coachroof was mostly sound and intact, the small gap in the new sheathing (which I'd fill and fair later) would pose no issues with protection.

Also seen in some of these photos is the first round of minor fairing required at the base of the cabin trunk to integrate the new Dynel with the adjacent deck areas, which I applied later in the afternoon.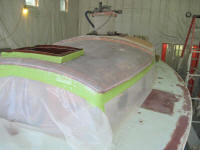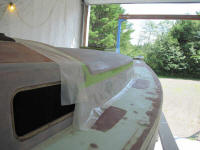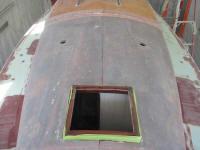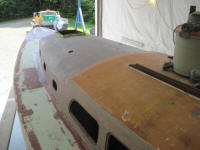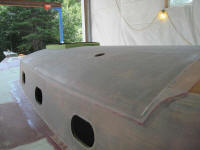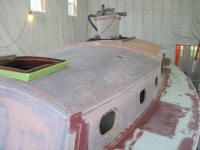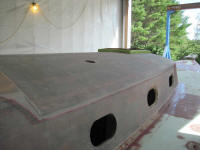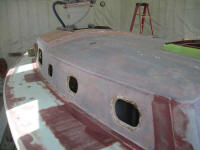 I applied the second round of fairing material to the poop deck, concentrating mainly on the known low spots.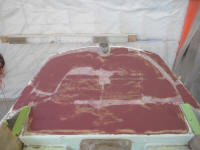 Finally, I spot-filled a few minor areas on the foredeck, a skim coat to fill small voids over the larger areas that I'd worked on last week.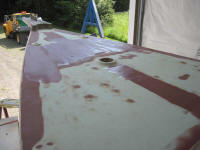 Total Time Billed on This Job Today: 6.5 hours