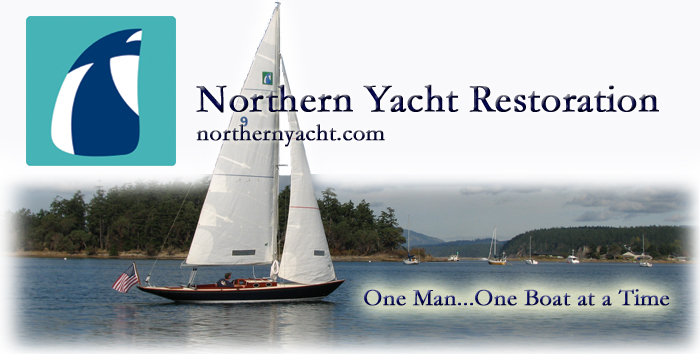 110 Cookson Lane | Whitefield, ME 04353 | 207-232-7600 | tim@lackeysailing.com
Waanderlust Project | Wednesday, July 7, 2010

My focus of the day was to apply the new Dynel sheathing to the sides of the cabin trunk. Earlier, I'd cut the pieces to size, so they were ready to go. Before beginning, I took the time to run some plastic sheeting along the sidedecks so I wouldn't have to worry about resin spills during the process.

To start the process, I mixed some thickened epoxy and formed a small fillet at the lower edge of the cabin trunk, where the trunk met the sidedeck. The fillet would provide a smooth curve for the cloth to lay over, since I planned to overlap the material onto the sidedeck.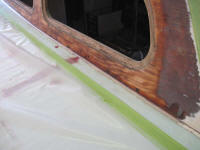 With the fillet complete, I installed the sheathing. With the material lightly taped along its top edge to hold it in place, I draped it over the work area and worked steadily to wet it out in place from one end to the other, squeegeeing and rolling it as I went: first the port side; then the starboard side; and finally the forward face of the trunk, which piece overlapped the leading edges of the two sides by a small margin.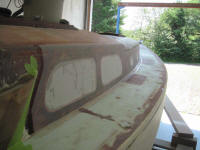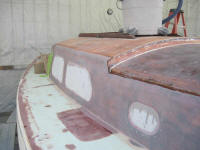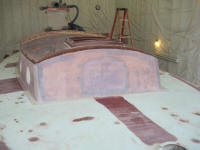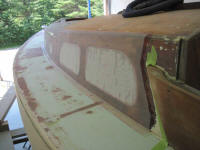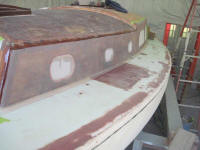 I left the Dynel to cure for a while over lunch, and afterwards I used a sharp knife to trim away the waste material at the various deadlight and port openings, now that the epoxy had cured to the point that allowed this. With that, I left the new sheathing alone till tomorrow, when I'd complete the new sheathing on the forward section of the coachroof.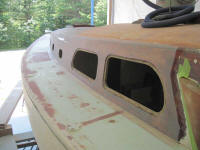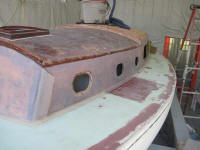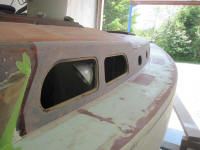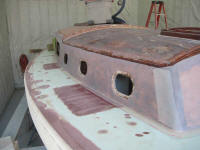 During the afternoon session, I washed and sanded the new fiberglass on the poop deck, beginning the fairing process. With the edges sanded flush with the adjacent, untouched deck areas, I lightly sanded the field, cleaned up, then applied the first coat of fairing compound to fill the cloth texture and various low spots as needed; there'd be several more applications before the job was complete.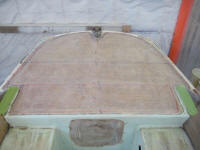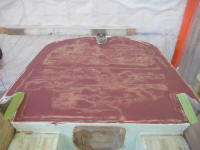 With a bit of time remaining before I had to leave the shop for the day, I precut (oversize) two pieces of Dynel for the coachroof, and marked out a centerline on the coachroof itself in preparation for tomorrow's work. I'd have a bit more layout to complete then, along with trimming the material to size, before I could epoxy the material in place.

Total Time Billed on This Job Today: 5.75 hours