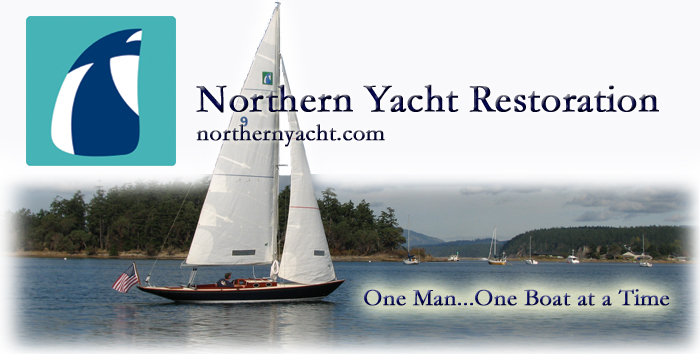 110 Cookson Lane | Whitefield, ME 04353 | 207-232-7600 | tim@lackeysailing.com
Waanderlust Project | Friday, August 20, 2010

I spent the morning on another round of sanding and filling inside the cabin trunk. This time, I used a fine filler for what I expected would be the final surfacing coat required before final sanding and preparations for primer.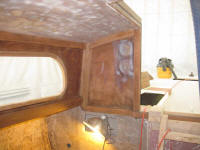 While I had the fine filler mixed, I took care of filling the 6 or 8 tiny places on the hull that I'd marked following the last sanding after high-build.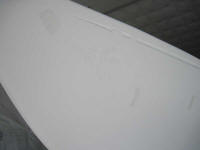 It seemed a good afternoon for odds and ends, so I solvent-washed and masked over the old through hull holes, and applied some thickened epoxy from the inside to plug the holes--the first step in the patching process. I left the fiberglass patching for later.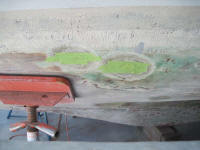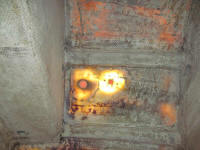 I collected the various bronze ports and selected the best three of each type: fixed and opening. Then, I spent the remaining time of the day's work cleaning up some of the ports.

On the two opening ports I planned for use in the main saloon, a light buffing with a fine wire wheel cleaned up the chrome-plated interior section of the ports. These ports had come from another Swiftsure. The weathered bronze exterior trim ring required just a quick burnishing to even out the color, without trying to overly clean or brighten the bronze. The square gaskets appeared to be in serviceable condition, though I might order some new gasket material anyway.

Top: starting condition. Bottom: after cleaning.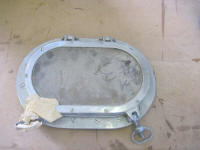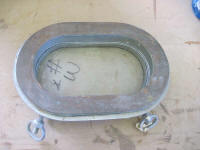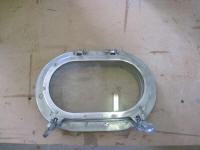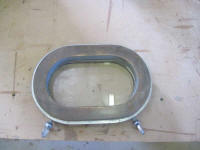 I needed to prepare one additional opening port--for the head--but the remaining ports were more badly pitted and had some paint on the inside surfaces, so the final port would require additional work to bring back into acceptable condition. I left that one for another day.

I turned to some of the fixed ports, which went in the V-berth and hanging locker. The three units that came out of Waanderlust were in decent shape, with some pitting of the interior chrome, but again a light cleaning with wire wheel worked quite well at improving the appearance, along with the same light burnishing of the trim ring.

Top: starting condition. Bottom: after cleaning.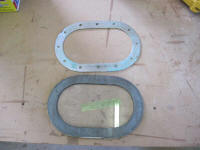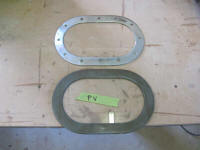 Total Time Billed on This Job Today: 4.75 hours