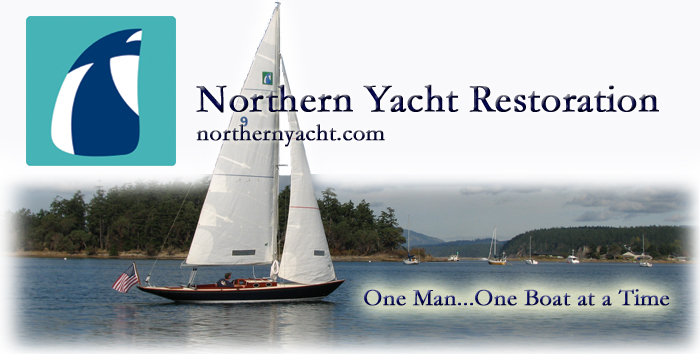 110 Cookson Lane | Whitefield, ME 04353 | 207-232-7600 | tim@lackeysailing.com
Waanderlust Project | Thursday, May 27, 2010

Other commitments forced my departure from the shop in early afternoon, but with this in mind, I spent the morning beginning the hull paint removal and sanding process.

The topsides, just like the bottom, featured substantial crazing that was visible through the various layers of paint, and which was immediately noticeable upon first inspection. Only paint removal would show what was truly beneath, but I anticipated the gelcoat would be completely crazed.

I took the photos below on the day I moved the boat into the shop, a couple weeks earlier.

I decided to start with the counter and get that out of the way while I was fresh. This is always the hardest part to sand. Sanding to bare gelcoat required a multi-step process to get the most from the sandpaper and to get through the various layers of paint. Initial sanding soon revealed the following layers of paint, at least: the topmost gray-blue layer; a layer of cream-colored primer; a layer of dark green paint; and finally the original gelcoat. I found no distinct layer of primer between the green paint and the gelcoat, but there must have been some.

I found it worked best to remove the gray paint first, then to go back with fresh paper and work on the primer and green paint beneath, which required substantial efforts to remove: it was extremely hard paint. Once I had removed most of the green with the coarsest paper (40 grit), I switched to 80 grit for a final pass to remove the vestiges of green and smooth the surface.

As expected, the original gelcoat was full of tight crazing cracks in a variety of patterns, from long lines to shorter, crackled-effect appearance. The gelcoat was otherwise in reasonable condition and seemed tight and well-adhered, unlike some of that that I'd observed on the bottom while stripping that. More on the gelcoat, and how to deal with it, later.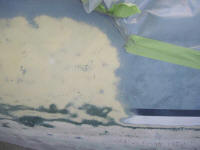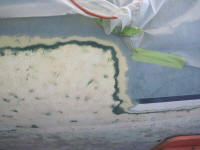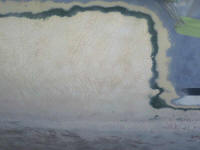 In this manner, I completed the entire counter, and up along the hull to the aftermost jackstand, located roughly 1/3 the length of the boat from the transom. I sanded from the waterline up as high as I could comfortably reach, about halfway up the topsides' height.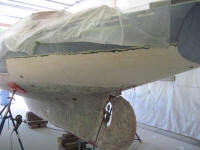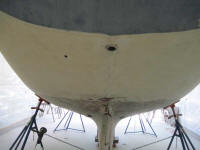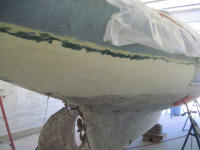 Since it was comfortable to sand much of the hull from floor level, I continued forward on the port side, following the same basic processes. Unfortunately, I ran out of time before I could complete all stages of the sanding on the lower half of the port hull, leaving a 6' long area which I'd sanded only through the first stage for another day.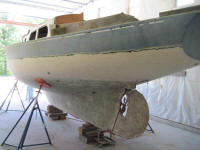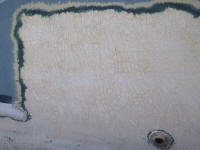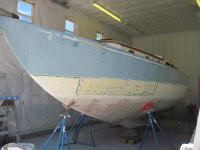 Total Time on This Job Today: 5.25 hours