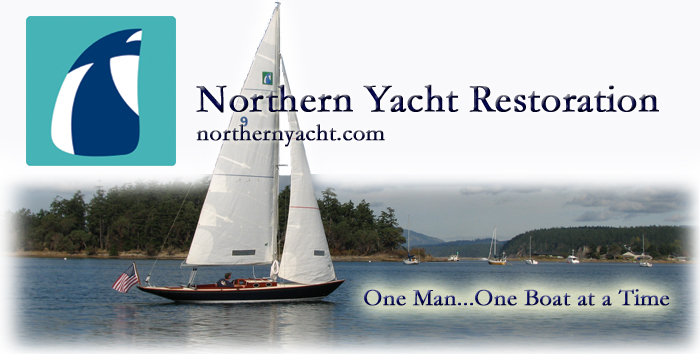 110 Cookson Lane | Whitefield, ME 04353 | 207-232-7600 | tim@lackeysailing.com
Waanderlust Project | Monday, May 24, 2010

To begin, I covered the decks with plastic, allowing it to drape slightly down the topsides. I saw no reason to allow bottom paint dust to contaminate the entire deck and interior areas, so took this extra step before beginning the day's work on the bottom.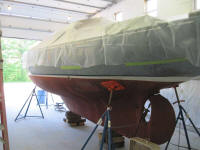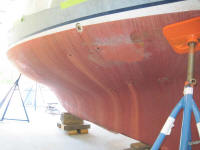 After getting set up with my tools and equipment, I spent the day removing bottom paint with scraper and sander, and sanding the newly-bare bottom through 80 grit. It became apparent that work had been done on the bottom at some point in the not-so-distant past: there was surprisingly little buildup of bottom paint, and the heavily crazed gelcoat had been covered in what looked like a layer of fiberglass cloth and resin over much of the bottom. Other than the gelcoat crazing, which I'd suspected and which was visible in the topsides as well, the bottom was in generally good condition.

Over the course of the day, I stripped the entire starboard side (save for the rudder and a small area at the aftermost end of the boat, which would be easier to complete once I moved the aft set of jackstands forward), and also completed the after half of the port side--the bigger "half", as it were. I was pleased with the progress and looked forward to completing the bottom later in the week, though I'd have to be out of the shop at least Tuesday and Thursday on other business.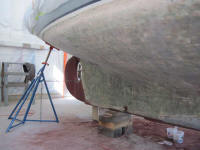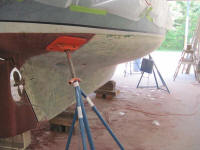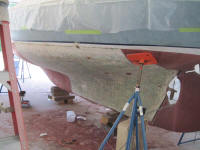 Total Time on This Job Today: 7.25 hours