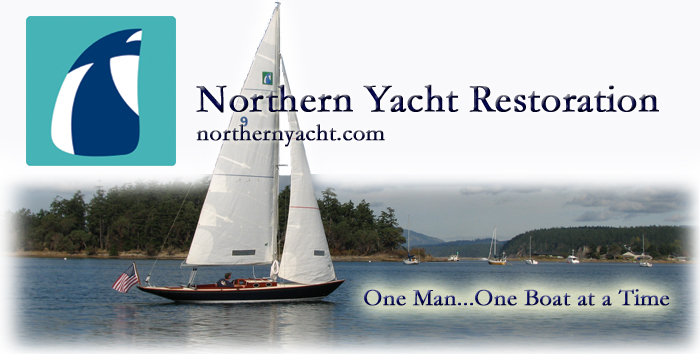 110 Cookson Lane | Whitefield, ME 04353 | 207-232-7600 | tim@lackeysailing.com
Waanderlust Project | Monday, June 28, 2010

After water washing all the new fiberglass, I sanded the new material as necessary to smooth the edges flush with the adjacent deck surfaces, and lightly scuffed all the remaining areas as needed.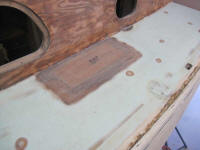 Next, I used a small sanding disc to dish out generally circular areas above each of the now-filled core sample holes about the deck so that I could install a layer of fiberglass at each location, and also lightly ground wider depressions at each filled fastener hole to accept a second layer of filler over the wider area.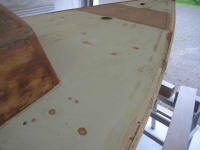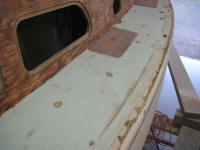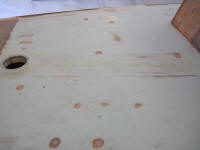 After cleaning, up, I cut a series of small discs from fiberglass cloth, and laminated them in place over the previously-ground deck holes. These overlapped the edges of the tapered areas, but I'd sand them flush later.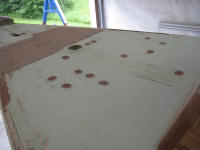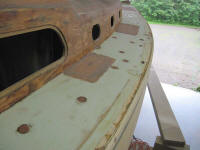 There were a few larger holes in the deck left over from various hardware installations, such as deck fill plates and chain pipes; in keeping with my policy to fill all deck holes, regardless of the potential for re-use, I began the patching process for these areas by filling--in several stages to avoid excess heat--the openings in the deck with a thickened epoxy mixture, after masking over the bottom sides of the holes to contain the epoxy within. Once this epoxy plug cured, I'd grind out the top portion to create a tapered section over which I could install a couple layers fiberglass to tie the patches in with the surrounding deck areas, and would later add fiberglass to the underside of the holes as well.

In the meantime, I applied a first coat of fairing compound to the newly recored areas, and all other areas as required, including the edge of the deck where it met the hull, which area had been partially filled during a much-earlier stage of the project before the boat arrived here. During deck sanding and prep, I'd discovered much of the material in this area was loose, and had removed it at that time, and now I could begin rebuilding the area to make a flush, smooth transition in all areas prior to other related steps.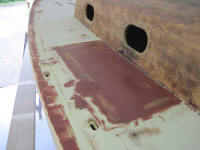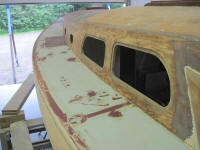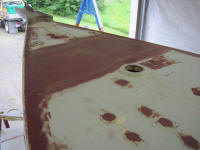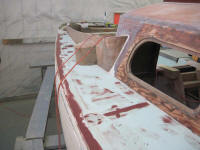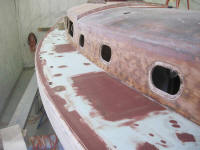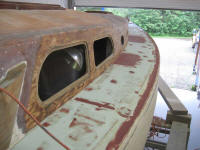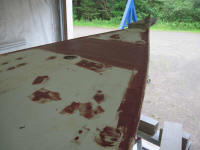 Total Time Billed on This Job Today: 5.25 hours