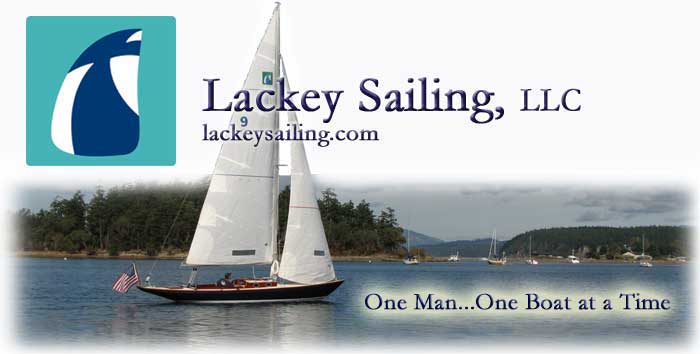 110 Cookson Lane | Whitefield, ME 04353 | 207-232-7600 | tim@lackeysailing.com
Waanderlust--Phase IV | Monday, July 20, 2015

A weekend meeting with the owner had helped sort out the remaining course of the project, so with a more defined work list now at hand I could get back to things. I spent the first part of the day spec'ing out and ordering various things for the electrical system, now that we'd worked out needs and desires for that, and other aspects of the project to come.

Back on deck for the moment, I wrapped up the installation of the mooring hardware with two pair of bronze chocks, one each at the bow and stern.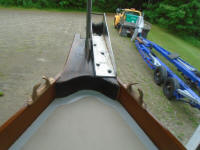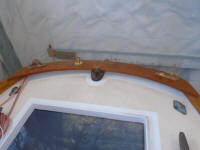 For the mainsheet, the owner elected to use a simple padeye, and I happened to find another good bronze one in the collection of boat parts on hand, so I prepared for its installation in the usual way, by masking off the deck, locating the hardware, and marking its base and hole locations. Afterwards, I bored out the fastener locations with a large bit, removing the top skin and core, before filling the resulting voids with a thickened epoxy mixture.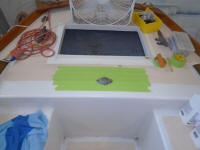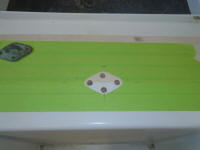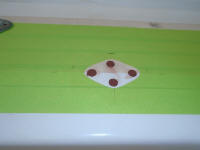 The owner and I had decided to locate the electrical panels above the starboard galley, utilizing the convenient space in the open locker where I'd already placed the battery switch. This space would keep wiring runs to a minimum, while allowing room for the related wiring detritus in the box behind the panel. Outboard of the opening, there was sufficient room for a small shore power panel and AC outlet that I'd be installing as well.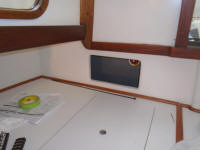 To cover the opening and eventually house the DC electrical panel itself, I prepared a piece of mahogany to fit, beginning with a blank cut to the overlapping size needed. To reduce its apparent bulk, I eased the edges and milled deep rabbets on all four sides, which would allow the panel to sit within the opening while overlapping its sides.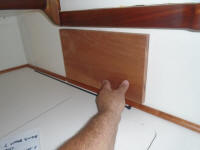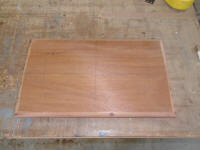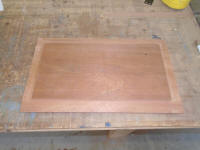 As it happened, the opening and the resulting new wooden panel were just the right overall size to nicely fit a horizontal panel that should accommodate the boat's electrical requirements. With the panel on order, I downloaded a cutout template and prepared the wooden panel accordingly before sanding it smooth and applying a sealer coat of varnisih.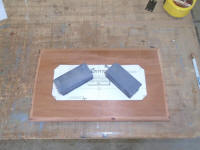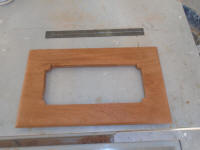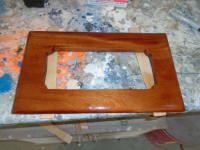 Total Time Billed on This Job Today: 5.5 hours

<Previous | Next>

0600 Weather Report:
Foggy, humid. Forecast for the day: eventual clearing, highs in the 80s.