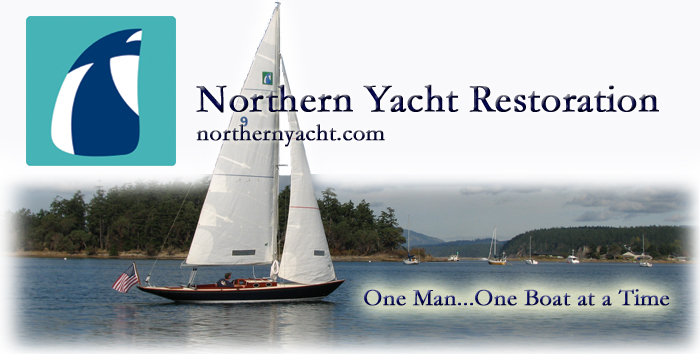 110 Cookson Lane | Whitefield, ME 04353 | 207-232-7600 | tim@lackeysailing.com
Waanderlust Project | Friday, July 2, 2010

Once more, I sanded the deck areas that I'd filled yesterday--just a few specific areas, including the foredeck, chainplates, and recored areas on the sidedecks. For the moment, this wrapped up the major fairing and sanding, though I had some fine filling ahead, plus additional work related to the cabin trunk resheathing, which would be next on the docket.

I spent the remainder of the day working on the poop deck. My first task was to build a support and mold (of sorts) beneath the two large openings in the deck, as for the moment I planned to core over the entire openings to give me options for recutting one or both of them later.

From 1/4" thick plywood, I cut two pieces to fit beneath the deck, extending out on each side of the openings a bit. I covered the center portion of the plywood with plastic to act as a release agent, and tacked the plywood in place from beneath with hot glue and supports. I also masked over the other openings and fastener holes as needed.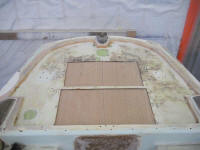 Next, I created a pattern for the core, and cut out and dry fit the new 3/4" balsa core.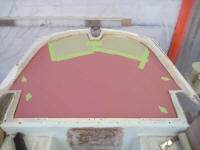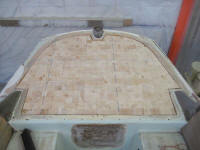 Finally, I installed the core in a bed of epoxy adhesive, after first applying some compound to fill in the smaller holes and around the edges of the larger hatch holes, followed by an application of unthickened epoxy resin on the remainder of the exposed inner skin and core edges.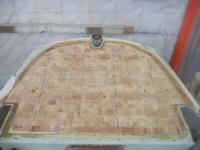 I cleaned up the boat and shop from the week's work, and called it a day for the holiday weekend.

Total Time Billed on This Job Today: 7 hours