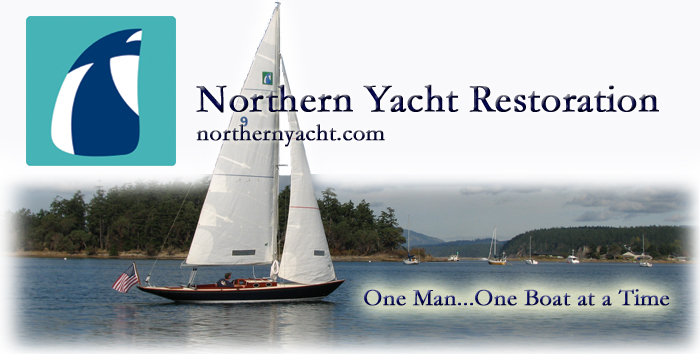 110 Cookson Lane | Whitefield, ME 04353 | 207-232-7600 | tim@lackeysailing.com
Totoro | Friday, December 16, 2011

After removing the weights and plastic, I prepared the newly-cored areas for their next steps by lightly washing and then sanding the surfaces to remove excess resin or adhesive from the core installation, and otherwise lightly abrade the surface to accept the fiberglass laminations. Then, I vacuumed and solvent-washed as needed to clean up.

I made patterns of each area, then transferred the patterns to a roll of fiberglass cloth and cut out two layers for each section, having determined from old deck samples that this would approximate the original top skin thickness.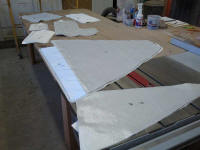 Using epoxy resin, I laminated the new material in place, working in the cockpit and at the mast step. Also in the cockpit, I installed small rounds of fiberglass over the old bolt holes on the starboard side, the first step in patching these areas.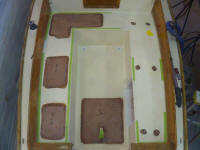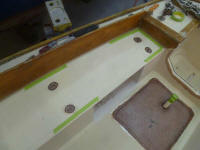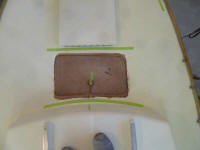 The larger foredeck region required a few additional steps before the final lamination. For whatever reason, the core here was a bit lower, so to make up the difference I cut and installed a single layer of fiberglass over the core on each side, which would bring the surface closer to even with the surrounding deck edges. Later, I'd install the two final layers over the top of the whole area.

Then, in the voids beneath each of the pulpit bases, I cut and installed several layers of fiberglass to begin to fill the empty spaces; I didn't fill them to the top with fiberglass, as I thought that many layers would produce too much heat during curing, so I'd complete the buildup later, once the existing layers had cured. This brought me to the end of the day's efforts.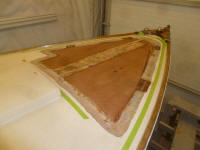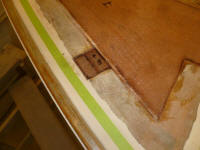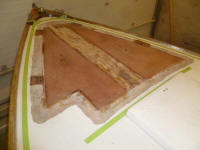 Total Time on This Job Today: 5.5 hours