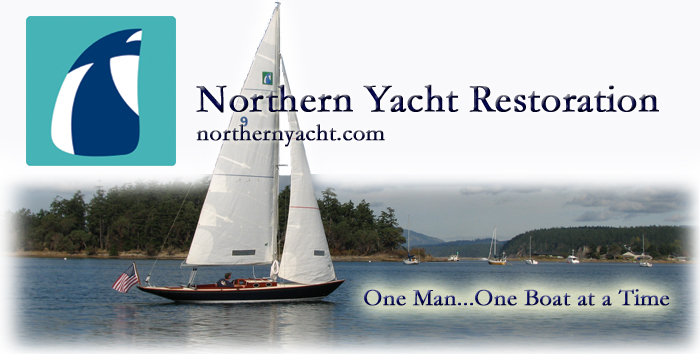 110 Cookson Lane | Whitefield, ME 04353 | 207-232-7600 | tim@lackeysailing.com
Totoro | Monday, December 19, 2011

To begin, I water-washed the new fiberglass patches, then sanded the repairs as needed. While I was at it, I sanded most of the decks to remove the existing molded nonskid pattern and prepare the nonskid deck areas for eventual repainting.

The large foredeck area required some minor filling around some of the edges, and also in the solid glass pulpit base areas to bring them flush with the adjacent surfaces. After completing this job, I installed two layers of fiberglass over the entire area, as with the other recored areas on deck. Because of the dimensions of the patch, each layer was in two pieces, so I located the seam for the first layer near the forward end, and the second layer's seam near the after end.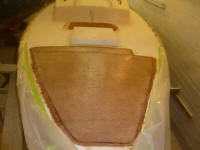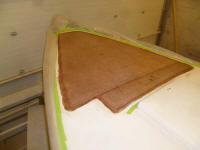 The built-in outboard well at the aft end of the cockpit required minor repair to the forward end. The original construction eventually allowed portions of the separately-molded outboard well to separate from the deck molding, leaving a crack along the seam; this had apparently been repaired at least once over the years, as the area had been repainted and there were other signs of the repair, but to better reinforce the area it really required some fiberglass covering the entire joint.

Earlier, I'd ground a beveled area on each side of the surface in question, and removed old paint and patchwork. Now, I cut a piece of fiberglass to fit the contours of the opening and installed it in epoxy resin. This repair was designed to prevent the ongoing cracking between the separate moldings and protect the plywood reinforcement within, but was not needed to further strengthen the area, as it was already structurally sound. Later, I'd fair this area in with its surrounds.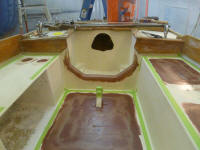 Finally, I applied the first of several coats of fairing compound to the patches in the cockpit and mast step.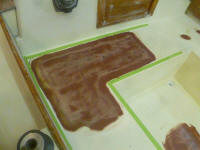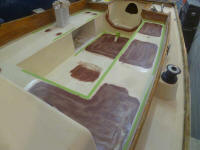 Total Time on This Job Today: 5.5 hours