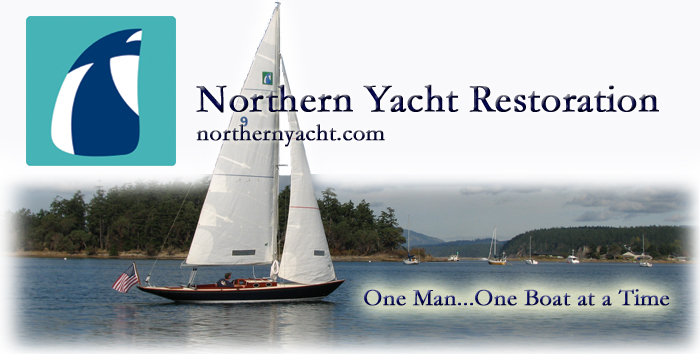 110 Cookson Lane | Whitefield, ME 04353 | 207-232-7600 | tim@lackeysailing.com
Bugs (Formerly Surprise) | Monday, October 25, 2010

Over the weekend, I continued the varnish process on the cabin sole, the two additional coats more or less completing the job; however, I thought I might add one final coat near the end of the project once all the other interior work (particularly the engine installation) was complete.

I also sanded the epoxy patch on the bridgedeck, and applied a final coat of fine fairing filler to the area. Then, this morning I sanded the patch, completing that stage of the cockpit repair.

Late last week, the owner made the decision to varnish the exterior teak, a job that had been up in the air at the onset of the project. The timing was perfect, as I was awaiting the engine delivery and had wrapped up many of the other jobs on the project list.

The exterior trim had been neglected for some time, and at the beginning of the job was nearly black in color. There was evidence on some of the adjacent surfaces that the teak had once been finished with Cetol, but clearly those days had long passed.

On an earlier workday, I powerwashed the teak trim to remove the worst of the dirt and brighten it substantially, but the wood was heavily weathered and roughly textured, and would require substantial sanding to prepare for varnish.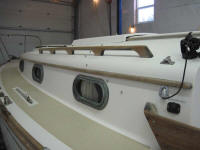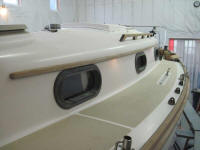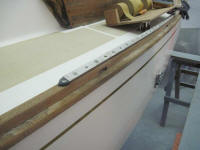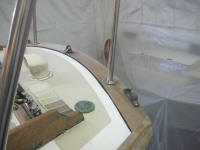 Beginning with the starboard toerail/rubrail, I cleaned up and smoothed the teak, working through 80-120-220 grit paper using a sanding block and by hand as necessary. The toerails featured multiple facets, all of which required sanding, but I was pleased how well the wood cleaned up in general. Fortunately, the wood hadn't been scrubbed to within an inch of its life over the years, keeping the surface fairly consistent and obviating the need to take extraordinary measures to sand it smooth.

I continued on the starboard side and sanded the eyebrow trim before moving around the transom to do the taffrail, and eventually the port toerail and eyebrow.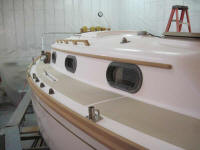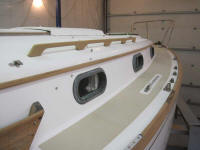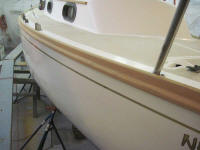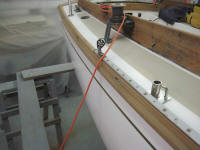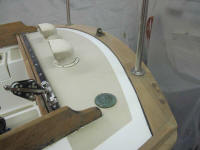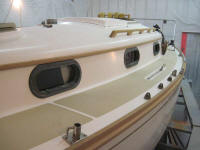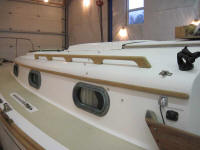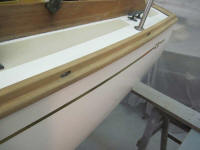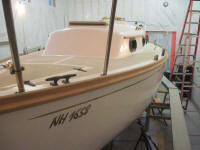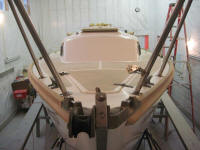 Afterwards, I moved up to the cabin trunk and sanded the teak handrails, which were a bit rougher and required more sanding, particularly on the exposed end grain and in the undersides of the loops, where the powerwasher had not been able to reach. However, the handrails still cleaned up well; one of the advantages of teak as an exterior trim material is its resilience in the face of neglect.

In the morning I'd address the remaining trim: the companionway and coamings.


Total Time on This Job Today: 7.25 hours