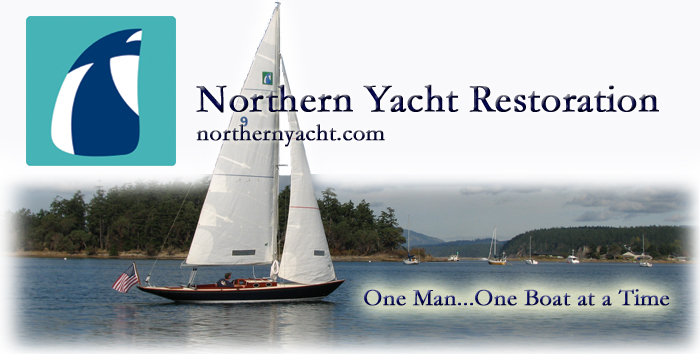 110 Cookson Lane | Whitefield, ME 04353 | 207-232-7600 | tim@lackeysailing.com
Bugs (Formerly Surprise) | Monday, November 29, 2010

One of the last remaining jobs, other than wrapping up the engine installation (which couldn't proceed till the new shaft arrived), was to repaint the nonskid in the cockpit, mainly to hide the now-repaired damaged area on the bridgedeck. To blend in the repair as well as possible, it made sense to repaint all the cockpit nonskid to keep the immediate appearance homogeneous.

The KiwiGrip nonskid paint I chose for this job is, according to its manufacturer, able to be custom-tinted to virtually any light-colored shade available at a paint store. Much earlier in the project, I'd picked up a number of color chips from my paint store to find a close match for the existing nonskid color on the boat.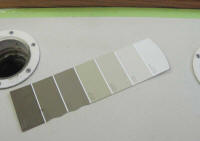 Back at the shop later in the day, I got to work on final preparations in the cockpit. I cleaned and lightly sanded the existing nonskid on the cockpit seats and sole to prepare it for the new paint. Because of the texture of the new paint, as well as the existing texture of the old nonskid, it was unnecessary to sand the old texture smooth for this particular application, so I gave it a good 80-grit sanding to scuff the surface and knock off high spots.

Afterwards, I masked off the existing nonskid areas, following the old lines exactly.

The new aluminum cockpit hatch arrived after some delay, and I made some minor adjustments (i.e. enlargement) to the hole in the cockpit sole so the hatch would fit, then marked the fastener locations and overbored the holes with a 5/8" bit to accept thickened epoxy, which I installed in all the fastener locations and in the groove around the cutout edges where I'd dug out the balsa core during the initial hole cutting last week. The epoxy would isolate the nearby core from potential water intrusion through the fasteners or the cutout once the hatch was installed. I left this to cure overnight, and planned to proceed with the painting tomorrow.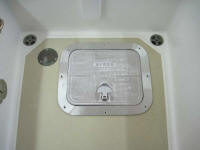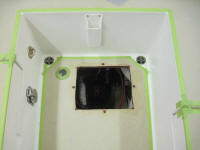 Total Time on This Job Today: 4 hours