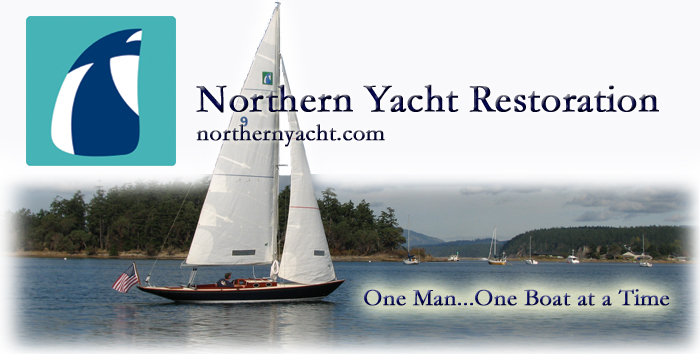 110 Cookson Lane | Whitefield, ME 04353 | 207-232-7600 | tim@lackeysailing.com
Summer Song | Wednesday, October 26, 2011

After appointments kept me away from the shop for a whole day, I returned to work on the various miscellany still on the list, including the minor keel and rudder repairs. I sanded Monday's application of filler on the keel, completing that job for the moment, and prepared the rudder to install a small new piece of mahogany to fill in a damaged section that I cut out.

For a time, I worked on the toerail repair at the port bow, but the process wasn't clicking, so I put the work aside for the moment to focus on other things. Next, I chiseled and sanded the new bungs on the coamings smooth with the surrounding surface.

So that I'd know where the handrails were to be reinstalled after paint--as well as to assist in laying out nonskid and borders later in the painting process--I prepared the handrails for their new installation by marking a series of new holes to accept bolts, which I'd install from above. I counterbored each hole for a 1/2" bung, then, with the rail set in place on the cabin trunk, I bored holes through the cabin at each location. The rails still needed to be stripped and sanded, along with the companionway hatch and forward hatch.

The gutters around the cockpit locker lids still needed a little cleanup and attention before primer, so I removed the lids (now that most of the prep work was complete on deck) and prepare the gutters as need be. I also bored out and filled several screw holes in the coachroof that were no longer needed, as the owner decided to eliminate the anchor storage chocks that had been installed there before.

I had to depart early for another appointment, but the remainder of the week would focus on the immediate preparations, including final clean-up and masking required for high-build primer next week.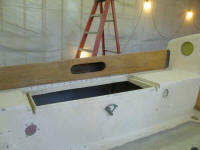 Total Time on This Job Today: 5.25 hours