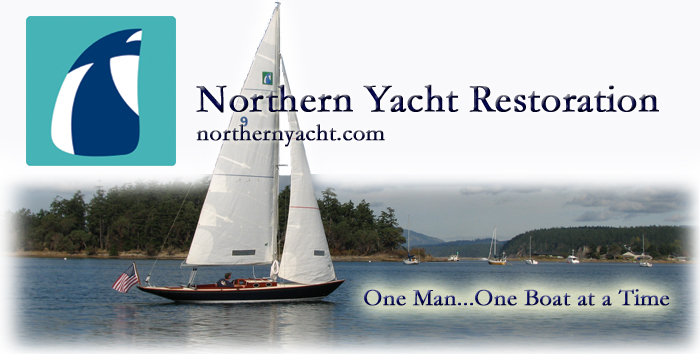 110 Cookson Lane | Whitefield, ME 04353 | 207-232-7600 | tim@lackeysailing.com
Home
| Contact Lackey Sailing |
Conversion Projects
|
Project Logs
|
Tim's Projects
|
Flotsam

S

ummer Song

| Thursday, January 30, 2014

Thinking ahead to the toerail installation, I'd made arrangements for a helper several days hence, which would streamline the installation by adding an extra pair of hands. Between now and then, I had a short list of items to take care of while I waited for the toerail joints to cure sufficiently, but there was little major work to accomplish.

I continued with varnish work on the engine instrument panel back, and wrapped up paint work on the small repair to the main bulkhead in the saloon. Meanwhile, I prepared and installed a new mahogany cleat above the engine room to support the top step; the old cleat, which had basically fallen off on its own during work on the original engine's removal, was in poor condition.

Using one of the mockup pine rail sections, I did a test run on the installation of one of the bronze mid-rail chocks. I started by making a simple cardboard pattern of the edge of the chock, then transferred the pattern to the toerail, marking both sides of the rail with the shadow of the chock.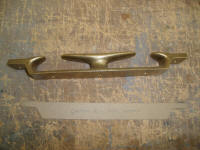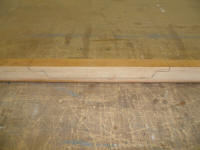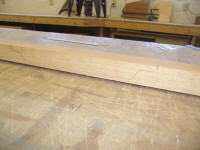 With a trim saw, I made cuts at the ends, and two angled cuts for the base of the chock. Then, to remove the waste material, I made a series of close vertical cuts down to the layout lines, staying a bit away from all the lines to allow me to chisel and fine-tune the fit for the chock. I knocked out the waste chunks with the chisel and a hammer.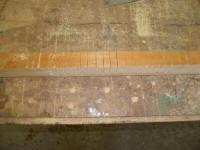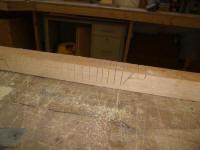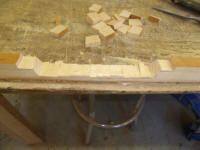 With the bulk of the waste removed, I pared away additional material as needed to eventually allow the chock to fit into the opening in its proper position, at least close enough to serve as proof of concept and method for the real things, which I'd not install till after the toerail was permanently mounted to the deck edge.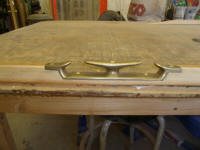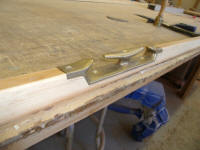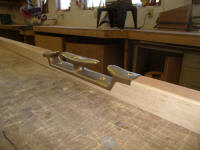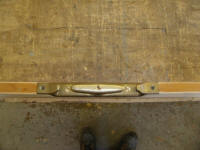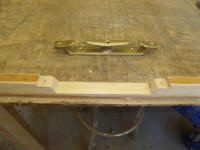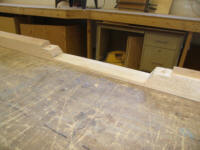 Total Time Billed on This Job Today: 2 Hours