Signature Conversion Projects

Windsong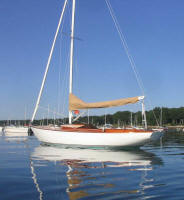 Most of the work completed by Lackey Sailing involves repairs to or restoration of existing vessels, but with our exciting Daysailor Project, we cornered an interesting new niche
The Daysailor, a 28' custom design based on one of designer Carl Alberg's finest hulls, is a premium vessel of unique concept. Constructed around a fine vintage fiberglass hull, the new decks and interior feature classic styling cues, abundant solid mahogany trim, and a huge 12-foot cockpit for pure sailing enjoyment.
Please click here to view a detailed website covering the construction of this interesting boat. (Site opens in a new window)
Lackey Sailing built this boat on speculation over a 2-year period, culminating in her launching in August 2005 and sale to a discriminating buyer in October of that year.
This boat garnered significant interest and positive reviews, proving that it often pays to look past the immediately-obvious condition of an old boat and visualize the possibilities.
---
Bolero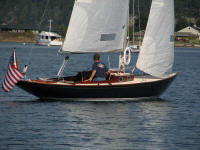 In a similar vein, during the winter of 2007-2008 Lackey Sailing/Northern Yacht Restoration was awarded the chance to create an interesting Shields class conversion project. The owner requested that we modify the deck and create a small cuddy cabin in the tradition of the "Knockabout Sloop" genre of the 1950s and 1960s, with the Dark Harbor 20 providing the most notable conceptual traits.
Initial reviews of the appearance and quality of the work invested in Bolero were extremely favorable, and the owner reports that she sails beautifully.
Please click here to view a detailed project log of this unique project.
Perhaps we might talk about that old design you've had your eye on, and consider what she could become. This sort of project is not for everyone, to be sure, but in a world of overpriced "gentleman's boats" of dubious utility, the conversion process can be a suprisingly affordable way to get the custom boat of your desires.